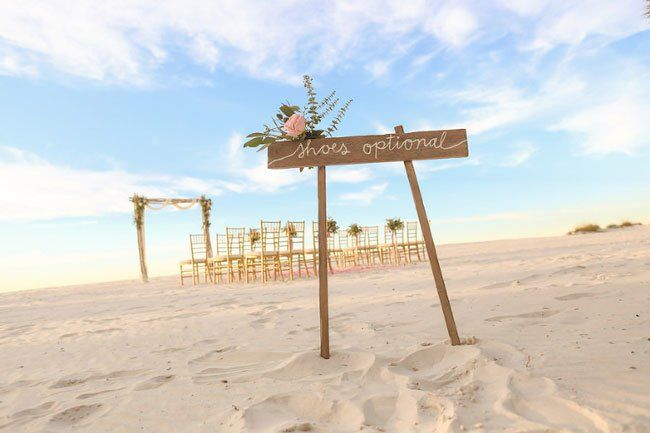 If you are a bride-to-be, we would like you to imagine the serene breeze of the beach walking down a sandy aisle and the sun setting behind you as you prepare to say "YES" in front of your beloved guests.
If this dreamy imagination brings a smile to your face then a beach wedding is the perfect choice for you! A beach wedding in the UAE is a truly magical experience, capturing the coast's natural beauty and laid-back ambiance.
Your journey to a beach wedding ceremony starts here as we work through the planning and carrying out to turn your dream wedding into a moment that will live forever in the sands of time. Planning a beach wedding ceremony in the UAE requires careful consideration, meticulous planning, and an abundance of creativity, for this check out our take on The Pros & Cons of Outdoor Weddings in 2023! Now let's get into the details.
Planning a Perfect Beach Wedding Ceremony in the UAE
Our tips for planning a beach wedding ceremony are here to guide you through the process, from choosing a dreamy beach location to finding the most beach-friendly attire. Get ready for a stress-free journey as you plan the wedding of your dreams, surrounded by the serene and enchanting allure of the beach. Before we start exploring the tips on planning your beach wedding, make sure to read 5 Things Event Planners Can Do To Make Events Successful!
Let's get straight to our tips and guide on planning your ideal beach wedding ceremony. Make to read until the end so you won't miss out on any details. Let's get straight to our tips and guide on planning your ideal beach wedding.
1. Find the Right Location
Hunting down a perfect beach location as your wedding venue is crucial for your wedding. Consider factors like guest list size, budget, and amenities. Private beaches offer intimacy and exclusivity, while public beaches suit larger gatherings and are more affordable.
If you are from overseas and are planning to have a destination wedding, having a beach wedding ceremony in UAE is a great option. The UAE is home to various beautiful coastlines that offer beach wedding venues, each with its special appeal perfect as a wedding reception. UAE can be a good place for both nighttime and daytime weddings, with special benefits for each choice.
Get a feel for what they offer – check out their amenities, services, and how easy they are to get to – to make sure they match your wishes and requirements. When choosing a wedding reception, take your guests' convenience into account.
Make sure the location is simple to get to and offers plenty of parking or transportation options for your guests. To avoid potential scheduling conflicts or disappointment, it's important to take the availability of the venue into account before choosing your wedding date.
By doing this, you can be sure that your ideal beach wedding venue will be available and perfect for your beach ceremony on the date you've chosen.
2. Making A Proper Budget
When planning your dream beach wedding ceremony, establishing a budget is crucial. A beach wedding ceremony in the UAE is a great idea that promises to be enchanting and unforgettable. Beach weddings might not be a budget-friendly option, but there are ways to optimize your budget based on your plan.
Set a comfortable budget with your partner and outline all event costs, including wedding location, decorations, catering, photography, accommodation, and special elements. Careful planning and budgeting not only provide financial understanding but also allow you to create your ideal wedding without any unpleasant surprises.
Confused about where to start, take Monasabat's guide as an example to set your wedding budget perfectly!
You can determine your priorities and allocate funds accordingly by using a budget. You can increase spending on the things that are most important to you and cut back on less essential things at your wedding ceremony to make sure you get the most out of your budget. Planning a beach wedding ceremony without a budget may lead to overspending and debt accumulation.
By making a budget, you can prevent needless financial strain and the anxiety that comes with mounting debt after your wedding. A well-planned budget will help ensure a smooth and memorable beach wedding ceremony.
3. Choosing a Perfect Theme
When you are Choosing a theme for your beach wedding ceremony, you will be able to have endless possibilities, from simple and casual to formal and elaborate. A nautical theme with navy and white stripes, anchors, and seashells creates a classic coastal vibe, while a tropical theme adds vibrant florals and exotic accents.
A Hawaiian Luau theme is perfect for outdoor beach weddings and for the sunset ceremony of your wedding. This kind of theme will transport your guests to the Hawaiian islands. A wedding dress can be a simple white dress. For brides confused about getting the best wedding dress on a budget, here are our picks to get the best & affordable wedding dress under $500.
The inclusion of tiki torches, tropical flowers everywhere, especially on your ceremony altar, and food with an island theme will make you, your partner, and your guest feel the laid-back atmosphere of Hawaii, along with the sound of the ocean waves and gentle ocean breezes that can induce a feeling of relaxation. This theme offers a joyful and festive ambiance that is ideal for a beach party.
The bohemian theme is the most common theme for weddings. Beach wedding attire includes beach wedding dresses in flowing fabrics, delicate lace, and graceful silhouettes that reflect the bohemian ethos of freedom and expression. Groomsmen in casual linen and bridesmaids in effortlessly elegant gowns round out the look, creating a stylish and comfortable ensemble.
The natural aesthetic of bohemian design for wedding invitations will please the eye of your invites, transporting them to a world of rustic charm and artistic allure that perfectly complements the beach's serene beauty.
Traditional wedding themes and white wedding dresses are also options against the stunning coastal backdrop of the UAE. This wedding theme and white wedding dress add an enchanting layer of elegance to your beachside celebration, from intricate embroidery on flowing gowns to ornate accessories that glisten like the ocean.
A carefully chosen theme sets apart your wedding from others and highlights your personal style. It makes it easier to plan an occasion that accurately represents you two as a couple.
4. Picking Your Wedding Decor
One of the most exciting aspects of planning an ideal beach wedding ceremony is choosing the beach wedding decor that will transform the pristine shoreline into a personalized haven of love and charm on your wedding day.
When planning a wedding, begin by visualizing the environment you want to create. Do you love the ethereal sophistication of flowing curtains gently swaying in the sea breeze, or do vibrant tropical blooms and lanterns capturing the vibrant spirit of the UAE's coastal landscape speak to you?
Your decor choices become the brushstrokes that paint the canvas of your beach wedding ceremony, with each detail reflecting your personality and journey. Decorations are helpful in directing guests' attention to various parts of the venue, including the dance floor, reception area, and ceremony site. Additionally, decorations can be used to identify seating areas, walkways, and other important features.
The beauty of a beach wedding ceremony is in its natural setting, so choose the decoration that complements rather than competes with it. Incorporate natural elements such as seashell centerpieces, driftwood accents, and elegantly designed beach-themed placeholders to celebrate the seaside allure. These details add an authentic coastal charm to your ceremony, connecting it to the essence of the UAE's breathtaking shores.
After selecting your wedding's theme, let your creative side shine through the decorations you pick. Choose color pallets and hues that can complement the theme you picked for your special day. With the right decorations, your dream wedding will be a stunning and unforgettable reflection of your personal style and personality.
5. Choosing Trustable Vendors and Wedding Planners
Before making your vendor choices, it's essential to review samples of their previous work. This will let you know about their work record and how well they can do when it comes to beach weddings. Seeing their past work will help you make informed decisions and feel assured that you have selected the right wedding planner.
Booking a professional photographer with beach wedding experience is essential to capture the magic of your special beach ceremony. Opt for someone skilled in shooting on the beach and adept at working with natural light. Additionally, consider hiring a wedding planner or wedding coordinator that are expert with beach weddings to handle logistics, provide beach wedding ideas including decoration and wedding party entertainment, and ensure seamless coordination with other wedding vendors.
They will provide you with all the details you need, and their expertise will guarantee a smooth, unforgettable, and stress-free beach wedding ceremony. With our article on how to choose the best vendors in UAE, you will be able to enjoy wedding vendors' expertise in the best way possible.
6. Prioritizing Guest Experiences
From the moment your guests arrive, their comfort and enjoyment should be at the forefront. Providing shaded areas, comfortable seating, and refreshments ensures they feel pampered and valued. Consider offering personalized touches like welcome amenities with local treats or even arranging beach games and activities to keep spirits high and interactions lively.
Adding engaging activities for your guests to enhance their overall experience. Take advantage of the beach setting by offering a fun wedding party, outdoor ceremony, and memorable options for your beach wedding ceremony.
A well-designed wedding program is a must-have for ensuring a seamless and delightful guest experience. You can also make a guest list where you select a specific guest to participate in each activity.
Ensure that the chosen activities on your wedding program align with your beach wedding theme, creating a cohesive and unforgettable experience for all involved. Moreover, the culinary journey plays a pivotal role on your wedding day.
Incorporating local flavors and specialties into the menu can be a delightful surprise for your guests, allowing them to savor the UAE's rich culinary heritage. Whether it's a delectable seafood feast or a fusion of Middle Eastern and international cuisines, or a signature cocktail, every taste should be a celebration of the senses.
7. Beach-Themed Wedding Menu
Creating a beach-themed wedding menu is like inviting the embrace of the ocean to dance on your taste buds. Infusing coastal flavors into your culinary offerings adds a delectable layer of charm to your event, making every bite a sensory journey that complements the beauty of the beach.
When thinking of a selection on your food and beverage menu for your beach wedding ceremony, there's a lot to consider. A casual buffet-style meal setup with a variety of light and seafood, grilled meats, vibrant salads, and fruit platters is a well-liked option.
Keep the drinks cool and refreshing. Signature cocktails with sea-inspired hues or exotic fruit-infused cocktails can be a delightful addition, providing a refreshing relief from the sun-soaked festivities. Given the heat and humidity, ensure ample ice and shaded areas to prevent drinks from warming up quickly. Your menu for your beach wedding ceremony is not complete without desserts.
You should consider adding desserts with tropical fruits or flavors to your menu. Layers of vibrant mango, pineapple, and coconut yogurt are combined with other tropical fruits to create a tropical fruit parfait. Mango sorbet cools like a gentle sea breeze, and pina colada cupcakes are perfect for beachfront relaxation. Be sure to closely collaborate with your catering company or chef to tailor the menu to your tastes and the overall vibe of your beach wedding ceremony.
8. Music & Entertainment
Music and entertainment are integral to creating an unforgettable beach wedding ceremony. As you exchange vows with the breeze from the ocean, think about the atmosphere you want to express with music. You can hire a talented singer, ukulele player, or acoustic guitarist to play sultry and romantic music as you exchange vows or during cocktail hour.
A talented DJ can create a playlist that embodies the beach by fusing chill music, reggae, tropical house, and timeless beach songs. You, your partner, and your guest can enjoy the coastal ambiance while keeping the dance floor busy and creating unforgettable memories.
For fun, host a beach bonfire with s'mores and music or set up lawn games for your guests to enjoy. Before finalizing entertainment plans, check with your beach venue for any noise or open flame restrictions. Your beach wedding ceremony is sure to be a memorable event with the right music and entertainment.
9. Picking A Perfect Transport
Organizing transportation is a crucial step in your beach wedding planning. If the beach venue is in a challenging or remote location, make sure to provide easy access for guests to get to and from the beach venue. The comfort of you and your guests can be greatly affected by transportation depending on how far the beach is from the accommodations. Providing transportation can enhance the experience, particularly if visitors must travel a long distance.
If your venue is on a small island, think about renting a small boat or yacht to get to the island. This choice gives the wedding a sense of exclusivity and adventure. You, your partner, and your guests can take in beautiful views while traveling in style to the island.
You can also arrange a shuttle service if the venue is near a hotel or a resort. Encourage carpooling or consider private transportation services like taxis or limousines. Provide clear instructions and directions to your drivers to avoid confusion or delays. By organizing transportation efficiently, you'll ensure a seamless and enjoyable experience for your guests at your special beach wedding ceremony.
Top 5 Mistakes to Avoid When Planning a Beach Wedding in UAE
Your wish for a charming beach wedding ceremony set amidst the breathtaking UAE coastline is about to come true! Imagine saying your vows as the sun is setting over the horizon, the waves lapping at the shore, and the gentle sea breeze caressing you.
While a beach wedding ceremony in the UAE sounds like a dream come true, it's important to be aware of potential mistakes that could make your perfect day a nightmare. We'll walk you through the top five mistakes to avoid when planning your ideal beach wedding ceremony in the United Arab Emirates.
1. Not Having Enough Time for Planning and Preparation
A beach wedding ceremony in the UAE requires enough time to plan for a number of important details. First, beach locations are frequently in high demand, particularly during the peak wedding seasons. If you don't have enough time, you'll find it hard and will be in a rush to find a good spot.
Insufficient time for planning and coordinating with vendors and wedding planners, particularly those skilled in beach weddings, may already have been reserved by other couples. As a result, there may be a smaller pool of potential vendors, which would reduce your options and perhaps force you to give up some of your preferences.
With enough time, coordinating vendors, such as caterers and photographers, becomes easier, fostering teamwork and a successful event. Early planning also makes it easier to comprehend and adhere to legal requirements, and plan for inclement weather, all of which contribute to a stress-free and flawlessly executed beach wedding experience.
For a beach wedding ceremony, not having a backup plan exposes you to the unforeseen nature of outdoor events. You can guarantee a smoother and more enjoyable celebration regardless of any unforeseen difficulties that may arise by having a well-thought-out backup plan in place.
Beaches are exposed to the elements, and the weather can suddenly change. Without a backup plan, unexpected weather conditions like heavy rain, blustery winds, or intense heat could make you and your guests uncomfortable, wet, or even risk the safety of the event.
The lack of a backup plan enhances an already stressful and uncertain situation. This stress can affect your enjoyment and ability to focus on what truly matters – celebrating your love. You can guarantee a smoother and more enjoyable celebration regardless of any unforeseen difficulties that may arise by having a well-thought-out contingency plan in place.
3. Overspending For Your Wedding
We understand that having a wedding will require a big budget, especially when it is a beach wedding ceremony but achieving a memorable and meaningful wedding experience while staying within a manageable budget is much more important.
Overspending on a beach wedding ceremony can put a strain on your finances. It might mean going into debt, using money from savings, or going over your comfortable spending limit. Your financial security and long-term goals may suffer as a result. Spending too much money on lavish or unnecessary details could lead to regret later on. Focus on the things that are most important to you both as a couple and make sure the funds are used for those.
4. Not Having a Dress Code
A dress code keeps the environment uniform and visually appealing. It makes sure that guests' attire complements the beach wedding's overall theme and ambiance, enhancing the beauty of the setting and producing a unified appearance for photos and videos.
A dress code prevents guests from feeling awkward or out of place because of their wedding attire. It establishes clear expectations, removing any doubt that might exist when going to an event in an unfamiliar setting.
A beach wedding's overall ambiance, guest experience, and couple-desired visuals are all influenced by the dress code. It makes sure that everyone is on the same page and contributes to a lovely and peaceful celebration.
5. Not Checking the Weather Before Your Wedding Day
In the UAE, the weather is subject to sudden changes, especially near the coast. If you don't check the forecast, you might not be ready for sudden changes like unexpected rain, strong winds, or extremely hot weather. Both you and your visitors may be at risk for health problems from intense heat and direct sunlight. To ensure everyone's safety, it's essential to have shaded areas and hydration stations.
As your wedding date approaches, it's important that you keep a close eye on the weather forecast to avoid making this mistake. In addition, think about having a backup plan or indoor substitute in case the weather changes. This way, regardless of the weather, you can be ready to make quick decisions and adjustments to make sure your beach wedding ceremony in the UAE goes off without any problems.
Final Thoughts
It takes careful planning, taking location, accessibility, availability, and scenic beauty into account, to have the ideal beach wedding ceremony in the UAE. Setting aside money for venue costs, decorations, and entertainment is essential. The atmosphere of the ceremony is enhanced by a theme that matches the coastal surroundings and suitable decor.
Working with reputable suppliers and an expert wedding planner guarantees a successful event. Seasonal ingredients and local specialties give the celebration flavor. A lively environment is made possible by music, entertainment, and transportation. Your wedding will be memorable and lovely when you combine these elements with careful planning and attention to detail, all while being surrounded by the stunning Arabian coastline.
Are you searching for the best event planner and vendors and are not sure where to start? You can check out Monasabats. We offer some of the best event services in the UAE. Visit our website to learn more about their services and how we can help you with your wedding planning requirements.