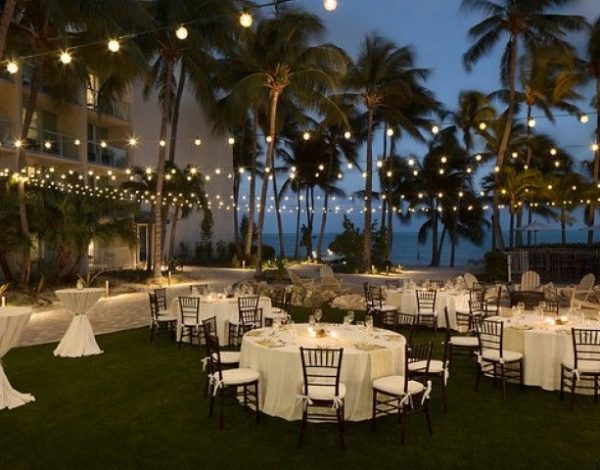 Outdoor weddings are cool but they can be daunting if you are inexperienced in selecting the perfect outdoor venue. The first big decision most of us make is where and when our wedding day will take place. Once we narrow down the general ideas and interests on paper, it is time to decide on a venue that suits you and your guests.
After settling down on a potential venue, you can start looking for other stuff related to your big day. This article discusses the pros and cons of an outdoor wedding and will help you decide your choice.
Pros of an Outdoor Wedding
This section includes all the pros of the outdoor wedding such as how scenic it can b for the new couple to tie the knot around nature. All these pros are well-researched and are truly beneficial for you if you think you like an outdoor wedding
1. The Scenery
One of the most fundamental benefits of an outdoor wedding is all the natural elements that it offers to a wedding setting. An outdoor wedding can be peaceful, with serenity and calmness. People who love a picturesque setting can always opt for an outdoor wedding venue rather than an indoor one.
What's more romantic than having your partner repeat the vows with you and having a light breeze softly crease your bride's veil? Or what can be more romantic than sharing a breathtaking sunset view while waiting to embrace your spouse?
2. Natural Lighting
Nothing beats natural lighting and the beauty it lends to your wedding venue while you are in the moment to say "I Do." Other than making the venue attractive, it keeps your pictures up to the mark, and you can have those lovely pictures for the rest of your life.
You don't need artificial lighting to look good or to manage anything else. Natural lighting has a way of adding warmth to weddings. And who can forget the breathtaking pictures at the golden hour?
3. Reduced Decor Expenses
Outdoor venues provide a natural setting where you don't have to spend much of your budget. You only need little alterations to make everything work for your big day. Outdoor venues provide a natural setting where you don't have to spend much of your budget.
You only need little alterations to make everything work for your big day. Most people love to have their creative freedom in outdoor wedding spaces and usually use standing architecture surrounding their venue to create an amazing ambiance.
4. Large Accommodation for Guests
Do we have to explain this one? We all know how large are outdoor wedding venues in terms of sizes and capacities to attend the event for your guests. They tend to accommodate a large number of invitees and crowds.
The first advantage in such settings is to enjoy fairly low expenses. Secondly, you can invite anyone you want without worrying about the size or the layout of the venue. If you want to experience your wedding at a luxury venue, check out Monasabat's luxury venues that can accommodate all your guests without making your wedding a mess.
Cons of an Outdoor Wedding
This section includes all the disadvantages of outdoor weddings that can be a little too much for couples who have already decided to say yes under the blue sky.
1. Pest Issues
If Mother Nature blesses you with its beauty and serenity, you surely have to go through its darker shade. An outdoor wedding is not immune to such darker shades and fury of Mother Nature. This means a large number of creatures like insects, birds, or mice may get interested in being your guest for that day.
The only thing you can do to prevent these unwanted guests is to use repellents; however, there is no such guarantee that you will get away with being bitten by mosquitos on your special day.
2. Allergies
We all go through seasonal allergies, and you never know which of your guest is allergic to bees, flowers, or grass. The last thing you want during your wedding is to have a bunch of your guests sneezing uncontrollably every 2 seconds.
On the other hand, outdoor weddings can also impact guest experiences. So to yield the best result, double-check the season in which you want to have your wedding.
3. Uneven Ground to Walk
The natural ground has its own imperfections, and it might not be a favorable or ideal dancing surface for you and your guests. You might need to wear a specific type of footwear to avoid any hindrances while you dance your heart out. And people who love wearing high heels, we are sorry that the natural dance floor is NOT for You!
Bottom Line
No matter what you have in your mind for your big day but it is always wise to consider and map out the pros and cons of it to have the best results in the end. Outdoor weddings offer you a chance to have great photography and videography services but with a little bit dark twist of Mother Nature.
The best thing is that no venue is perfect, and you will always have options to choose from. If you want to know about luxury and romantic wedding venues, make sure to read out our picks for the most romantic wedding and reception venues in Dubai.