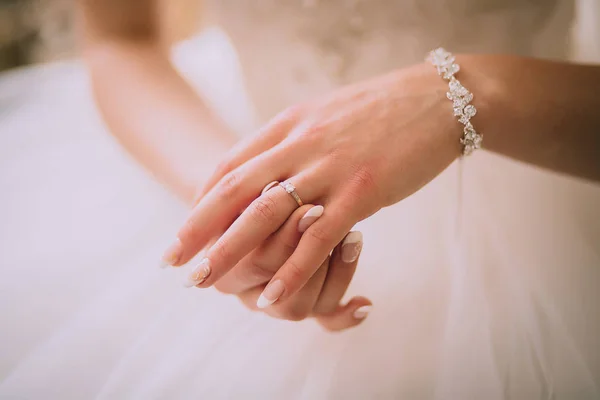 You found the one you want to spend your life with and nothing can announce this feeling in a better manner than "putting a ring on it"! But what type of wedding rings one should look for a wedding? How to pick the best one and how to be immune from selecting a faulty one?
Dont Worry! We know the excitement of getting married to the one you love takes you to cloud 9 and honestly we at Monasabat, dont want to spoil that excitement of yours. So to cater to that we've come up with a practical guide to help you get the perfect wedding rings for you and your partner to make your love story legendary.
So, saddle up, because this is your chance to be the Lord or Lady of the Ring, and we're here to make sure you get it right!

Things to Look Out for When Finding The Perfect Wedding Rings
Ring Resilience
Even the mightiest of wedding rings can't escape the wear and tear of daily life. So, it's absolutely important to proof-check the metal they're crafted from. The material your rings are made of can be a game-changer in ensuring that your precious jewelry remains as stunning as the day you said "I do," long after your wedding day has become a beautiful memory.
Symbolism
There's a whole whirlwind of trendy options out there that can sweep you off your feet. But before you get carried away, we advise you to take a moment to dive into the heart and soul of each wedding ring style you're considering.
It's like adding a dash of magic to your love story, giving those traditional wedding rings your own unique twist and infusing them with extra love and significance.
The Right Price
We're all for those exquisite, show-stopping wedding rings that you can find at reputable jewelry shops. But important to follow your wedding budget. Your wedding day is a magical journey, and so is the process of finding your dream rings. Keep in mind that setting a budget isn't about being thrifty; it's about being financially responsible.
Charm with Comfort
Just like wedding dresses, the fit of your wedding rings is an absolutely crucial consideration. Standard fit rings are all about that true-to-size, classic feel. They're your go-to choice for traditional designs made from precious metals like platinum. On the other hand, comfort fit rings have a slightly looser feel, offering a cozy feel.

Top 5 Best Wedding Rings for Women to Buy for Your Big Day!

The Marquise Diamond Ring with three stones and baguettes speaks for itself. It is not only a stunning ring but a timeless investment for you and your partner. The marquise-cut diamond, with its elongated and pointed shape, gives an illusion of larger size, which makes it perfect for ladies who prefer BIG BLINGS!
Juno The Swan by Catbird Wedding

"Juno the Swan" is a creative name for an exquisite ring by Catbird Wedding. It symbolizes nothing but creativity, art, and love for craftsmanship. With its distinctive design, it features a marquise-cut diamond which symbolizes grace and elegance.
The inspiration behind it is simple, the ring symbolizes the delicate nature and beauty of a swan and ladies imagine how beautiful will it look on your finger!
The Knife-Edge Round Brilliant Engagement Ring

Sophisticated and timeless are the only two words we can think of when it comes to Knife-Edge Round Brilliant Ring. For brides that love the vintage charm and dont want to experiment with something so precious, this ring is for you!
It features a round brilliant-cut diamond as its centerpiece, complemented by a knife-edge band, which narrows to a delicate, pointed edge on either side, creating a sleek design for its wearer.
The Signature V Band

The Signature V Band is a beautifully designed ring, enough to create a gaga about your choice and style in jewelry. With its distinctive V-shaped design, it is the best choice if you are looking for a minimalistic wedding ring. This band can be worn alone or paired with an engagement ring to create your own personal style statement.
The Eternity Band

The "Eternity Band" is a ring that exudes stunning craftsmanship of gemstones, typically diamonds, that encircle the entire circumference of the ring. This design symbolizes the everlasting nature of your love and devotion and it's a perfect pick for someone you want to spend your life with to create endless memories.
What are the Benefits of Trying Wedding Rings Before Your Wedding?
To make it precise, there are MANY benefits of trying your wedding rings before the big day. It not only ensures comfort, and your style and preferences but it is also important in addressing issues that can pop up in the last moments.
Make sure to never wear your wedding rings on the actual wedding day, so that you dont end up stuck with a ring you dont like or are not comfortable wearing.

How Much Should Wedding Rings Cost?
It can greatly vary especially if you belong to a place where inflation rates are higher. Before buying an expensive thing make sure to check the budget, and take the personal preferences of your partner as a source of motivation and love.
On average, traditional gold or platinum wedding bands can range from a few hundred to several thousand dollars each, with precious gemstones and designs.

Do Wedding Rings Always Need to Match?
No, wedding rings don't always need to match. It totally depends on you and your partner whether you two want to buy identical wedding rings or not.
Can Wedding Rings Be of Any Metal?
Yes, wedding rings can be made of a variety of metals. The choice of metal depends on your personal preferences. Common options include gold, platinum, silver, titanium, tungsten, palladium, and even alternative metals like stainless steel.

Wrapping Up
We advise our readers that selecting a wedding ring can be a time-consuming process but the key is to be patient and consistent until you find the ideal wedding rings for your D-Day. Choose wedding rings that can be a constant reminder of the enduring bond and the beautiful promise of unity you've made to each other. For more expert guides on wedding and event management services, visit our website or reach out to our team to make your events unforgettable!