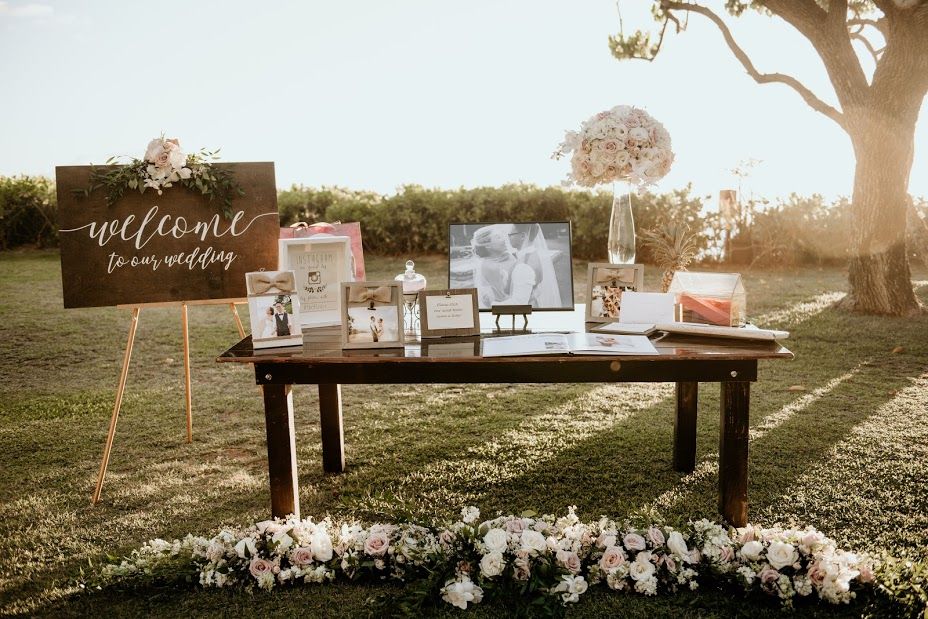 There's a wonderfully comforting essence to a rustic-inspired wedding, reminiscent of that cozy sensation when you step back into your cherished abode. What could be more fitting than adding some rustic wedding decorations to your wedding?
Imagine an ambiance of ease, a symphony of calming earthy hues, the abundant embrace of nature, and the dependable presence of robust wooden details anchoring the effortless palette – all these elements converge to personify the rustic wedding allure.
If you are what other you can ideas to go for besides rustic, then check out our article on the unique wedding ideas to wow your guests!
Rustic Wedding Decorations to Add to Your Wedding
For those seeking guidance on seamlessly integrating rustic wedding decorations, our comprehensive guide is designed to illuminate the path. Discover a curated selection of exceptional rustic wedding décor ideas to embrace in the year 2023.
Embracing the timeless charm of rustic aesthetics, the ageless allure of antique wooden barrels remains a failsafe choice for your rustic wedding decorations. Its presence serves as an impeccable accent, seamlessly harmonizing with any corner of your wedding venue.
Elevate its appeal by adorning it with a lush profusion of vibrant blooms and resilient succulents, infusing a delightful burst of color into the rustic canvas.
Ditch the traditional vases and opt for the rustic charm of wooden table centerpieces as your ultimate rustic wedding decorations to infuse your ambiance with an organic allure. These planters not only provide a unique visual appeal but also amplify the vibrancy of your blossoms and succulents, creating a captivating display that's even more captivating and vibrant than before.
But if you are someone who would love to add a touch of color to your rustic wedding decorations, make sure to check our recommendations for Trending Wedding Flower Arrangements in the UAE for 2023!
Elevate the enchantment of your special day by gracing it with the presence of a wooden chandelier delicately illuminated by soft, ethereal lighting. This captivating addition seamlessly weaves a touch of magical elegance, intertwining nature's beauty into every moment.
For those desiring a hint of brilliance in their rustic wedding decorations, consider an option that provides a spectrum of lighting possibilities, ensuring your event shines with the perfect glow and ambiance at every turn.
The captivating fusion of weathered, eclectic wooden panels and delicate strands of miniature fairy lights converges harmoniously with the organic essence of your chosen venue, crafting an exquisite tapestry that sets the stage for your special moments.
An enchanting rustic backdrop not only showcases an enchanting aesthetic but also provides a canvas for couples to infuse their personal touch. Enhance its allure by introducing flickering candles, graceful twigs, and intricate floral accents, adding a bespoke dimension to the rustic tableau.
A commanding ceremony arch adorned with an array of vibrant blooms and graceful drapes mirrors the untamed allure of the great outdoors, imparting a bold and striking presence against the backdrop of a beautifully minimalistic landscape.
Graceful and refined, the combination of elegant, wooden lanterns and an abundance of blossoms atop them infuses the ceremony aisle with a charming bucolic atmosphere. To further enhance this rustic vibe, consider incorporating additional elements such as wooden crates into your rustic wedding decorations, seamlessly weaving a tapestry of rustic vibrancy into the very fabric of the aisle.
Capture the essence of your favorite blooms by nestling them within quaint mason jars, lovingly adorned with rustic ribbon and textured burlap. This artful presentation ensures a captivating impact. To amplify the charm even further, consider embellishing these arrangements with delicate fairy lights, infusing an extra layer of enchantment and intricate detail to your rustic wedding decorations.
Elevate the enchantment of your rustic setting with a touch of elegance by introducing ceiling drapes in a soft baby-pink hue. These drapes not only harmonize beautifully with the rustic backdrop but also infuse a subtle charm that resonates throughout the space.
To create a truly mesmerizing ambiance, consider adding fairy light curtains that cascade from the high ceilings, bestowing a magical and ethereal effect that captivates all who enter.
Infuse a tender and romantic ambiance into any nook with the delicate radiance of miniature candles. Their subtle flicker casts a gentle and enchanting glow, effortlessly transforming every corner into a haven of warmth and intimacy.
Elevate the charm of his and hers chairs with the delightful touch of brass initials. These elegant accents not only personalize the seating arrangement but also add a touch of timeless allure, making a sweet and meaningful addition to your wedding decor.
Imagine the way a well-chosen table runner can instantly elevate the look of your tables, adding a pop of color, texture, and visual interest. Whether you opt for a flowing fabric in a delicate hue or a rustic burlap runner that exudes charm, this simple yet impactful detail sets the tone for your entire table setup.
Incorporating rustic wooden card holders into your wedding décor is a wonderful way to infuse your special day with warmth, character, and a touch of nature's beauty. Their understated elegance and functional design create a harmonious balance between style and practicality, making them a cherished addition to any wedding celebration.
The LED lights add a captivating dimension to the wooden initials, casting a soft and enchanting radiance that transforms your wedding space into a mesmerizing spectacle. Whether placed as a focal point on the sweetheart table, adorning the entrance, or enhancing the backdrop of the ceremony, these LED rustic name initials create a visually stunning ambiance that captivates the eyes and hearts of your guests.
Rustic wooden cake toppers offer a distinctive and charming element to wedding confections, infusing the sweetness of your special day with a touch of timeless allure. Crafted from natural wood, these toppers evoke an organic and authentic ambiance that perfectly complements rustic, vintage, and countryside-themed weddings.
A rustic wooden heart-shaped guest book offers a captivating and sentimental touch to your wedding, inviting your loved ones to contribute to a cherished keepsake that captures the essence of your special day.
Crafted from natural wood, this guest book embodies the warmth and authenticity of rustic aesthetics, making it an ideal addition to the countryside, barn, or vintage-themed weddings.
The soft, muted tones of pampas grass harmonize beautifully with the earthy palette often associated with rustic themes. Whether used as standalone arrangements or woven into larger floral displays, these delicate plumes introduce a sense of whimsy and serenity, evoking a connection to nature and the great outdoors.
Incorporating flower baskets into your rustic wedding decorations is an opportunity to embrace the grace of nature while accentuating the inherent charm of the rustic theme. Their timeless ability to evoke emotion, celebrate abundance, and harmonize effortlessly with your event's essence makes flower baskets a truly captivating and cherished addition to any rustic-inspired setting.
The appeal of wooden table numbers lies not only in their visual charm but also in their versatility. Whether they're carved, engraved, or elegantly painted, these numbers stand as both functional indicators and decorative pieces.
Placed atop centerpieces, integrated into floral arrangements, or suspended from stands, they serve as anchor points that guide guests while seamlessly blending with your rustic wedding decorations.
A wooden cake stands as a true emblem of rustic elegance, seamlessly merging the organic beauty of nature with the refined charm of special occasions. Crafted from genuine wood, these stands offer an authentic touch that perfectly complements rustic, vintage, and countryside-themed events, creating a harmonious blend of tradition and contemporary aesthetics.
The versatility of bud vases is truly remarkable. They can be arranged in clusters along tables, elegantly spaced along mantels, or suspended from beams, each one contributing a touch of natural charm to the overall decor.
Their unpretentious beauty makes them well-suited for barn weddings, outdoor gatherings, and intimate ceremonies, adding a touch of intimacy to the atmosphere and to your other rustic wedding decorations.
As the bride glides down the aisle and guests bear witness to the union, the burlap aisle runner plays a crucial role in setting the stage. Whether it stretches through a sunlit garden or winds its way through a rustic barn, it creates a focal point that guides the eye and complements the rustic narrative of your ceremony.
The enduring charm of wooden crates is a testament to their timeless quality. Much like rustic decor reveres enduring elements, these crates stand as tangible echoes of the past, capturing the rustic essence and the craftsmanship of a bygone era.
Their ability to evoke nostalgic sentiments while flawlessly integrating with contemporary design elements makes wooden crates an esteemed and meaningful addition to any rustic-inspired celebration.
Wood Slices
Wood slices offer a range of creative possibilities in wedding decor, contributing both visual and functional elements to your celebration. As decorative accents, they can be used as charming bases for centerpieces, serving as platforms for floral arrangements, candles, or even as personalized placeholders. Whether showcased as table settings, hanging ornaments, or incorporated into signage, wood slices breathe life into your chosen aesthetic.
Add a touch of charm to your wedding with the timeless appeal of bamboo trays. These rustic wonders effortlessly blend elegance with a cozy, down-to-earth vibe, making them perfect for your special day.
Whether used as centerpieces adorned with delicate wildflowers or as serving platters for delectable appetizers, wooden trays bring an organic warmth that captures the essence of a rustic-themed celebration.
Fruits & Greenery
This down-to-earth approach not only adds a burst of color but also invokes a sense of abundance and togetherness. Let the simplicity of nature shine through as you intertwine fruit and greenery, creating a captivating rustic ambiance that resonates with both romance and the bountiful spirit of the countryside.
Picture tables adorned with wooden crates brimming with colorful produce, interspersed with verdant leaves and branches.
Ladder Display
Transform your wedding into a rustic haven by embracing the ladder display as a charming decor element. Evoking a sense of nostalgia and creativity, leaning vintage ladders against walls or trees serves as a unique canvas for your imagination.
Drape them with twinkle lights, delicate blooms, or family photographs for an intimate and visually captivating touch. This ingenious display adds a vertical dimension to your venue, allowing guests to explore an artful arrangement of memories and treasures.
Rustic seating charts offer a delightful blend of nostalgia and functionality to your rustic wedding decor. Incorporating repurposed elements like old windows or doors, these displays creatively guide guests to their seats while adding a touch of vintage charm.
As guests find their names amidst the carefully arranged calligraphy or handwritten notes, the rustic seating chart becomes more than just a practical guide—it becomes a piece of art that intertwines the past with the present.
Miss Matched China
Mismatched china, a hallmark of rustic wedding decor, infuses your celebration with a captivating blend of vintage elegance and quaint charm. Each piece tells a unique story, as eclectic plates, cups, and saucers gather to create an enchanting tableau that celebrates imperfection and individuality.
This approach to table settings not only adds a sense of warmth and nostalgia but also fosters a communal atmosphere, where guests are invited to share in the diverse beauty of each piece.
Twine & Jute
Twine and jute, those unassuming yet versatile materials, weave an earthy and rustic charm into your wedding decor. With their natural textures and understated elegance, they effortlessly tie together various elements of your celebration.
Whether used to bind bundles of wildflowers, create delicate bows on chair backs, or wrap around vases and candles, twine and jute add a touch of simplicity and organic beauty that resonates with the essence of a rustic-themed wedding.
Farmhouse Tables
Farmhouse tables, a quintessential feature of rustic wedding decor, infuse your celebration with a sense of communal warmth and rustic elegance. These long, wooden tables serve as both functional pieces and focal points, creating an inviting atmosphere where guests can gather and connect.
Their sturdy yet unrefined charm embodies the spirit of simpler times while allowing you to embrace a more family-style dining experience. Adorned with minimalistic yet thoughtfully chosen decor, such as burlap runners, vintage centerpieces, or flickering candles, farmhouse tables bring an authentic touch to your wedding reception, inviting everyone to savor the joy of togetherness amidst the rustic beauty of the countryside.
Hay Bales
Hay bales, a charming rustic decor choice, add a touch of countryside authenticity and casual elegance to your wedding setting. Often used for outdoor ceremonies or receptions, hay bales provide both seating and decor.
Their golden hues and textured surfaces create a cozy and inviting atmosphere, offering guests a unique and relaxed seating option. Whether arranged in rows for a ceremony, clustered around bonfires, or used as a backdrop for candid photos, hay bales evoke a sense of nostalgia and simplicity that perfectly complements a rustic-themed wedding.
With their rustic appeal and versatility, these humble bales of hay contribute to the creation of a memorable and laid-back celebration that captures the essence of a bygone era.
Berry Bridal Crown
Imagine the bride, resplendent in her flowing gown, walking down the aisle adorned with wildflowers and surrounded by towering trees. In such a scene, a berry bridal crown perfectly complements the setting.
Delicately woven vines adorned with berries – the rich reds, deep purples, and earthy greens – form a crown that's both ethereal and grounded. This fusion of colors and textures creates a visual feast that echoes the wild beauty of the forest.
Pumpkins
Pumpkins, with their robust presence and earthy colors, are quintessential symbols of the harvest season. Incorporating them into your wedding decor brings an inviting and cozy feel that perfectly complements the romance of the occasion.
Whether used as aisle markers, table centerpieces, or even carved with intricate designs, pumpkins infuse an element of rustic elegance that marries harmoniously with berry-themed accents.
The versatility of beverage tubs extends to the types of drinks they can hold. From juices and signature cocktails to homemade lemonades and infused water, the options are as diverse as the colors of fall.
This variety allows you to cater to different tastes while keeping the rustic vibe intact. In the grand tapestry of your rustic wedding decor, the inclusion of beverage tubs weaves yet another thread of nostalgia and charm.
Bottom Line
In the journey of planning your rustic-themed wedding, these diverse yet harmonious decor ideas await as your companions. From the timeless allure of wooden trays that bring warmth to every table, to the rustic elegance of mason jar centerpieces that hold the essence of wild beauty, and the enchanting ladder displays that weave stories through each rung, these decorations encapsulate the heart and soul of rustic celebrations.
By embracing the simplicity of burlap and lace, the natural beauty of fruit and greenery, and the authentic character of vintage lanterns and wooden signs, you invite an intimate connection to nature and a gentle nod to days gone by.
If you are soon to be married and want state-of-the-art event services, then make sure to visit Monasabat. We blend creativity with class and transform your events into enchanting experiences, weaving memories that will linger in your heart and the hearts of your guests for years to come.