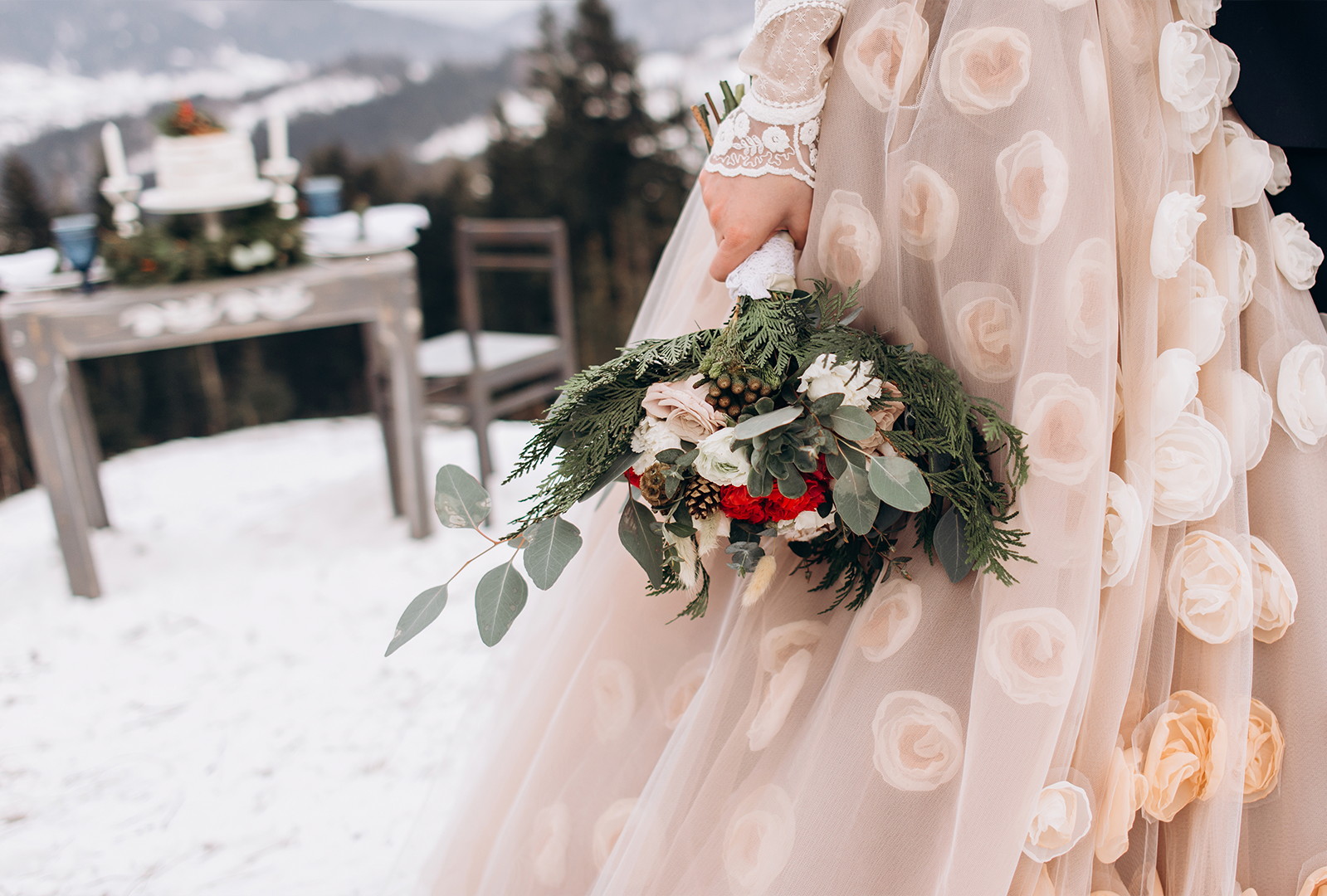 Are you a bride to be in Dubai? Are you here to find your dream wedding dress? Dont worry! we will help you find the perfect bridal collection in Dubai. As the crisp air has started to run through the sandy dunes of UAE, it is the perfect time to pick a wedding gown that compliments the chilly weather.
Now, when it comes to choosing the perfect bridal gown for your winter wonderland nuptials, you've got to think beyond the typical choices. In this article, we'll walk you through the best winter wedding dresses to ensure you stay warm, stylish, and unforgettable on your special day!

Winter Wedding Dresses in Dubai to Try this Fall Season!
Before you start your wedding dress shopping, it is important to think of wedding dresses that not only give you enough coverage but also are fashionable enough to suit a bride. With this notion in mind, we have curated a list of the fabrics that will make the perfect wedding dress that you're looking for. So now without any further ado, let's get straight to our list.
A-Line Velvet Ball Gown
Velvet never gets old and many designer wedding dresses also include this charm in their beauty. It adds a touch of opulence to your look. An A-line wedding dress made with velvet and lace along the neckline to give it a more stunning detail. Velvet is ideal for keeping you warm but if you are a picky bride you can add multiple layers of the fabric to make it into an a-line ball gown.
A full-length velvet gown with a V-neck paired with a sheath for a timeless, romantic feel. You can style your perfect gown with bridal accessories like pearl earrings or bridal tiara.

Add Sophistication with A Silhouette Bridal Dress
Satin Silhouette paired with tulle can be seen in most of the wedding dresses in Dubai. The reason why many designers include this is because it excludes elegance and sophistication. You can see this combination in many royal weddings where you will find a wide selection of satin silhouettes paired with a corset bodice.
As a bride, you can go for a long-sleeve satin gown, or an off-the-shoulder bridal maxi with a slight train to keep you cozy while walking down the aisle. Enhance your satin dress with a faux fur shawl to stay warm and stylish during your outdoor winter ceremony.
Woolen Warmth
Any bridal boutique would be a straight no if it missing a traditional woolen wedding dress. Ladies if you are cold feet bride, then embrace the warmth and texture of wool. It will not only protect you but the wool will look stunning in pictures and will compliment the white wedding theme you are going for.
You can also go strapless with wool as a top part of your bridal dress and it will leave enough room for you to all the stunning jewelry you like to wear.

Capes for a Unique Style on Your Big Day
A delicate lace cape or a cozy faux fur cloak adds an air of romance to your winter bridal attire. Opt for a wedding dress with an attached hood for an enchanting and practical touch. You can find it from any wedding shop in Dubai and feel beautiful on D-day.
Winter Crowns, The Best Bridal Accessory
Whether you're someone who has tried wearing crowns before or not, adding a sparkling tiara or crystal crown is the best wedding accessory you can pair with your dress. They evoke the magic of winter and are the perfect addition to your wedding day look. A treat of winter blooms and evergreen leaves is a unique alternative to a traditional crown.
If you are wondering where to get them, just ask your bridal shop owner and he will help you in pairing the best tiaras for the look you are going for.

Hand Muffs with Wedding Dresses
If you trace back their history, well Queen Victoria made a statement with her stunning pair of hand muffs as royal weddings used to include them as a part of the bridal dress. In the modern day, a new trend of white hand muffs has become the talk of the town.
It not only adds a touch of vintage charm to your outfit but you look perfect for every occasion. You can add a little alteration to them by adding your initials or wedding date for a personalized touch.
Embracing Winter Color Palettes
Colors can greatly set the mood for your winter wedding. Add some winter color palettes for your wedding dress. To start you can add Ice blue and silver to create a mystique look. You can also consider a gown with silver embroidery or blue accents for a touch of frozen magic. Other than this you can also experiment with deep reds and golds that have warm and a romantic vibe.

FAQS
We know you might have multiple questions to ask so that you can add perfection to any average wedding dress you encounter. To help you in that we have listed down the most commonly asked questions.
Can I wear a sleeveless dress for a winter wedding?
Yes, you can wear a sleeveless dress, but it's essential to layer it with a cozy wrap, shawl, or jacket to stay warm during your outdoor ceremony.
How can I keep my legs warm in a shorter wedding dress?
If you choose a shorter wedding dress, consider wearing thick tights, knee-high boots, or leg warmers to keep your legs warm and stylish.
Are there any winter-specific accessories for brides to consider?
Absolutely! Winter-specific accessories include faux fur shawls, hand muffs, and winter crowns that add both style and warmth to your bridal look.
Can I incorporate snowflakes into my wedding dress design?
Of course! Snowflake embellishments on your dress or in your accessories can add a whimsical touch to your winter wedding ensemble.
Should I select a wedding dress according to the wedding theme?
Absolutely, selecting a wedding dress that aligns with your wedding theme can be a great idea. Your dress plays a significant role in creating the overall ambiance and look of your wedding day.
Is wearing a white lace gown good in winter?
Wearing a white lace gown in winter can be a wonderful choice, but it's important to consider a few factors to ensure you stay warm and comfortable on your special day. The weight and thickness of the lace fabric also matter.
But in general, if you are just worried about the cold, consider layering. Think about your wedding venue and its temperature and layer accordingly. If you're having an indoor wedding with controlled heating, a white lace gown may work well. But if you are having an outdoor venue, you must prepare for a cooler temperature.
What type of Bridesmaid Dresses are good?
Honestly, it all depends on personal preferences. The best bridesmaid dresses are those that align with the wedding theme and make your wedding guests feel comfortable and confident.

Conclusion
Your winter wedding is a unique opportunity to create a magical and memorable experience. With the right choice of winter wedding dresses, luxurious fabrics, and accessories, you can look stunning while staying cozy on your special day.
Whether you prefer the elegance of velvet, the sophistication of satin, or the warmth of wool, there's a perfect winter dress waiting for you. If you are someone who has a thing for wedding planning and looking for the best event management services in UAE, head over to Monasabat to explore a whole new world of possibilities.