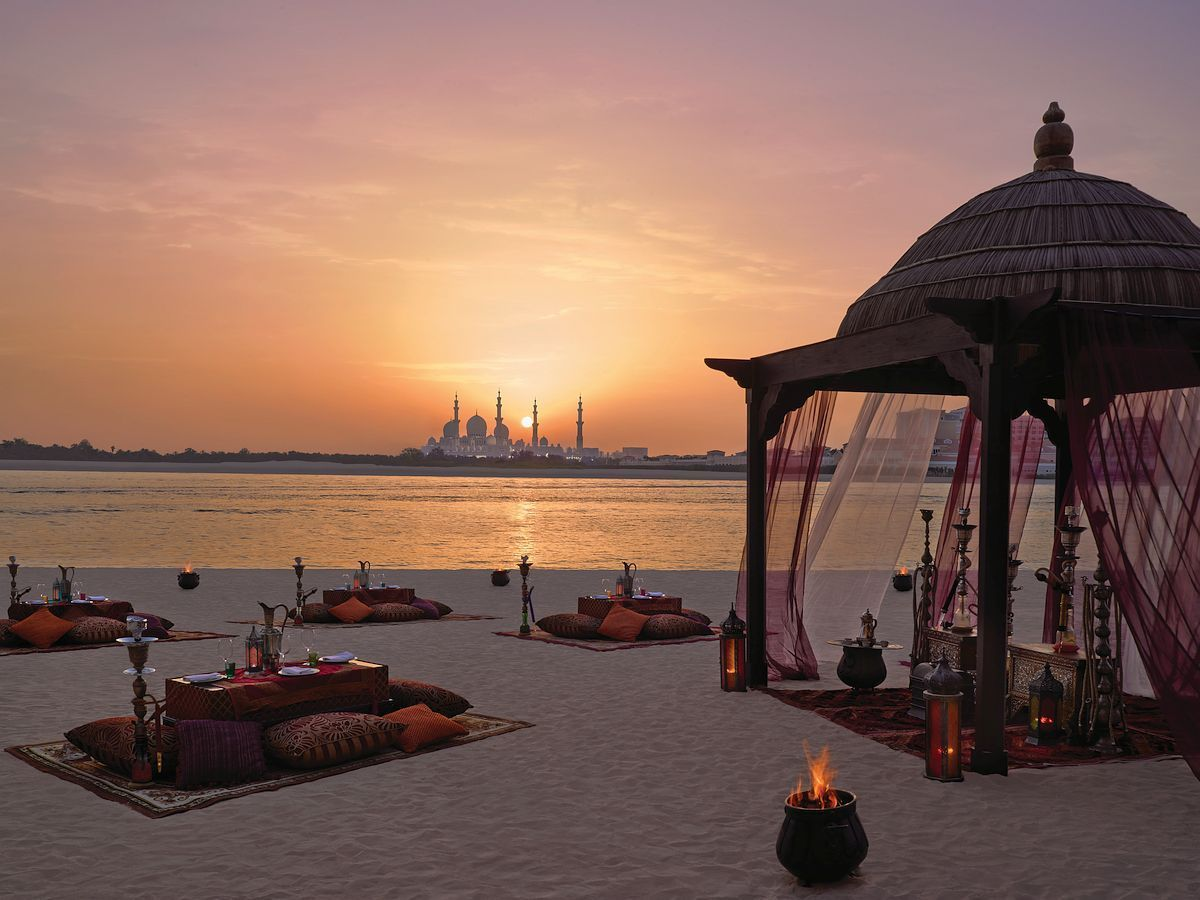 When it comes to saying "I do" in a picturesque setting, Abu Dhabi offers a stunning array of outdoor wedding venues that perfectly blend natural beauty with luxury. From serene beachfront to lush gardens, these venues provide an enchanting backdrop for couples seeking to tie the knot amidst the allure of nature.
In this article, we'll explore some of the most captivating outdoor wedding venues in Abu Dhabi to offer, each encapsulating the essence of romance and elegance. Before we dive deep into the romantic outdoor wedding venues in Abu Dhabi, we have something special for couples. Visit our website and explore our take on the most romantic wedding venues in Dubai for couples!
Romantic Outdoor Wedding Venues in Abu Dhabi
Abu Dhabi boasts a plethora of stunning wedding venues that cater to diverse tastes and budgets. From opulent ballrooms to cozy beachfront locations, the city offers an array of choices for your special day.
For those with a penchant, outdoor weddings in Abu Dhabi don't disappoint. Here's a curated selection of the finest and most romantic outdoor wedding venues in Abu Dhabi that you can visit!
Imagine a place where the golden sands of the desert meet the sky in a breathtaking embrace – that's Qasr Al Sarab Desert Resort. This special spot in Abu Dhabi is like a magical haven for couples dreaming of a romantic outdoor wedding.
Qasr Al Sarab is not your ordinary wedding venue. It's surrounded by vast sand dunes and offers a sense of privacy that's perfect for couples looking for a unique and intimate experience. The way the resort is designed to blend with the desert is truly something out of a fairy tale, and it makes the whole wedding setting look like a dream.
Getting married at Qasr Al Sarab means you get to say your vows under the open desert sky, with endless sand dunes creating a stunning backdrop. The colors of the desert – warm and soft – add a touch of wonder to your big day.
Whether you want a simple and elegant ceremony or a grand reception under the stars, Qasr Al Sarab has got you covered. Their team knows how to make your dreams come true and will help you plan everything just the way you want.
The Westin Abu Dhabi Golf Resort & Spa offers a picturesque setting for couples who want to celebrate their special day surrounded by nature's tranquility. The resort's expansive golf course provides a stunning backdrop that's both relaxing and captivating.
Imagine exchanging your vows on a sun-kissed lawn, with gentle breezes rustling through the trees and the soft sound of flowing water in the background. The resort's carefully designed spaces offer an atmosphere of elegance and sophistication, making it an ideal spot for a romantic outdoor wedding.
What's great about The Westin Abu Dhabi Golf Resort & Spa is that it provides the perfect blend of a natural setting and modern amenities. You and your guests can indulge in top-notch hospitality, ensuring that your wedding day is not only beautiful but also seamless and enjoyable.
This enchanting resort offers a unique and breathtaking outdoor wedding venue for couples who want to create unforgettable memories in a stunning natural setting. The Desert Islands Resort & Spa is located on Sir Bani Yas Island, surrounded by the azure waters of the Arabian Gulf and the beauty of the desert.
For couples who yearn for a beachfront wedding, this resort is a dream come true. The powdery sand, the turquoise waters, and the gentle sea breeze create a romantic ambiance that's simply unparalleled. Imagine walking down the aisle with the sand beneath your feet and the sound of the ocean as your backdrop – it's the epitome of a fairytale beach wedding.
But the magic doesn't end at the beach. The resort offers a range of outdoor spaces that can be transformed to fit your vision. Whether you prefer a beachfront ceremony or a garden reception surrounded by lush greenery, Desert Islands Resort & Spa has it all.
Emirates Palace is more than just a venue – it's an experience that will transport you and your guests into a world of luxury and grandeur. From the moment you step onto the grounds, you'll be mesmerized by the sheer beauty and magnificence of this iconic palace.
Nestled along a pristine beach and surrounded by lush gardens, Emirates Palace offers a range of outdoor spaces that are perfect for couples seeking a lavish outdoor wedding. Imagine exchanging your vows under the clear blue sky, with the palace's stunning architecture as your backdrop and the Arabian Gulf stretching beyond.
One of the highlights of Emirates Palace is its stunning terrace, where you can host a reception that's nothing short of extraordinary. The terrace overlooks the turquoise waters of the Gulf and boasts impeccable views of the city's skyline, creating a magical atmosphere as the sun sets and the stars come out to play.
Imagine saying "I do" with the shimmering waters of the Arabian Gulf as your backdrop and the stunning Abu Dhabi skyline gracing the horizon. The beautifully landscaped gardens provide the perfect setting for a romantic ceremony, surrounded by lush greenery and serene water features.
What sets Rosewood Abu Dhabi apart is its commitment to providing personalized experiences. Their dedicated events team is there to turn your wedding vision into a reality, ensuring that every detail is meticulously crafted to match your style and preferences.
The venue's outdoor terrace is a standout feature, offering breathtaking views of the cityscape and water. This is where you and your guests can celebrate your union under the open sky, with a touch of sophistication and luxury that is synonymous with Rosewood.
Indulge in the epitome of luxury and enchantment at The Ritz-Carlton Abu Dhabi, a captivating haven that promises an outdoor wedding experience unlike any other.
Nestled amidst the serene waterfront of the Grand Canal, this exquisite venue exudes timeless charm and opulence. As you step into the expansive gardens, you'll find yourself immersed in a world of romance and splendor, where every corner seems to whisper tales of love.
The Grand Lawn, a lush expanse of greenery that stretches towards the sparkling canal, provides an enchanting backdrop for a romantic ceremony. The magnificent architecture of the resort, inspired by 15th to early 17th-century Renaissance architecture, adds a touch of grandeur to your special day.
Escape to a paradise of romance and relaxation at Saadiyat Beach Club, a captivating haven that offers a truly unique outdoor wedding experience. Saadiyat Beach Club boasts a stunning beachfront location that sets the stage for a magical ceremony.
The powdery white sand and azure waters create an idyllic setting, radiating a sense of serenity and tranquility. Whether you choose to walk down a sandy aisle or stand beneath a charming gazebo, every moment will be drenched in the romance of the sea.
Speaking about beach clubs and outdoor weddings, Monsabats has curated a guide on having the best wedding on a budget, read it to know how you can get the best deals on a budget in UAE.
The lush gardens that surround the club provide an enchanting atmosphere for your reception. With twinkling lights and beautifully landscaped greenery, the outdoor space transforms into a wonderland of elegance and celebration as the night unfolds.
What makes Saadiyat Beach Club truly special is its dedication to creating a personalized experience. From designing your dream wedding setup to curating a sumptuous menu tailored to your preferences, their team of experts ensures that your vision comes to life flawlessly.
Situated along the vibrant Corniche area, this iconic hotel offers a regal setting for your outdoor wedding, where every detail is carefully crafted to create a celebration that reflects your unique love story.
Imagine exchanging vows against the backdrop of the sparkling Arabian Gulf, with the Abu Dhabi skyline adding a touch of urban charm. The private beach provides a dreamy location for a beachfront ceremony, where the golden sands and endless ocean create an atmosphere of pure enchantment.
The St. Regis Abu Dhabi offers a range of stunning outdoor spaces that cater to various preferences. Whether you prefer a garden wedding surrounded by lush greenery or a poolside soirée with glittering city lights as your backdrop, this venue provides the canvas for your vision to come to life.
What sets the St. Regis Abu Dhabi apart is its commitment to impeccable service. From the moment you step onto the property, a team of dedicated professionals works tirelessly to ensure every detail is flawlessly executed. From the exquisite floral arrangements to the gourmet cuisine, your outdoor wedding will be a masterpiece of elegance and taste.
Step into a world of timeless beauty and unparalleled luxury at the Four Seasons Abu Dhabi, where your outdoor wedding dreams come to life against the backdrop of the stunning Arabian Gulf.
This iconic venue is a symphony of elegance and sophistication, designed to create a wedding experience that is truly extraordinary. Nestled along the sparkling shores of Al Maryah Island, the Four Seasons Abu Dhabi offers a remarkable setting that blends natural beauty with urban charm.
Whether you envision an intimate gathering or a grand celebration, the Four Seasons Abu Dhabi offers a variety of outdoor spaces that can be customized to match your vision. From lush gardens to elegant terraces, each venue exudes a sense of grace and sophistication that is synonymous with the Four Seasons brand.
Yas Links Golf Club provides a range of outdoor spaces that cater to different wedding styles and sizes. Whether you envision an intimate gathering or a grand celebration, the versatility of this venue ensures that your wedding vision can be brought to life with precision and creativity.
From the first tee to the elegant clubhouse, every corner of Yas Links exudes a sense of luxury and elegance. The venue's dedication to perfection extends to every detail, from the impeccable service to the delectable culinary offerings that will delight your guests' palates.
For couples who seek a wedding that captures the essence of natural beauty and sophistication, Yas Links Golf Club is a canvas waiting to be painted with your unique love story. Your outdoor wedding here will be an extraordinary chapter in your journey, set against the backdrop of nature's finest and the excitement of a world-class golfing experience.
Accessible by a short boat ride from Abu Dhabi's shores, Zaya Nurai Island transports you to a world of pristine white sands, azure waters, and lush greenery. As you step onto the island, you are greeted by the gentle rustle of palm trees, the scent of the sea breeze, and an aura of exclusivity that lends an air of grandeur to your special day.
Imagine exchanging your vows on the soft sands, with the ocean as your backdrop and the sun setting in a blaze of colors over the horizon. Zaya Nurai Island provides a range of outdoor spaces that cater to your wedding dreams, from intimate beach ceremonies to extravagant celebrations beneath the starlit sky.
The island's commitment to luxury is evident in every detail. Your wedding will be flawlessly executed by a dedicated team, ensuring that every moment is a reflection of your vision and love story. The culinary offerings are a symphony of flavors, crafted to delight your taste buds and leave a lasting impression on your guests.
Five-Star Hotel & Outdoor Wedding Venues for Couples in Abu Dhabi
Shangri-La Hotel
The culinary experience at Shangri-La Hotel is a masterpiece in itself. Expert chefs craft a symphony of flavors that tantalize the senses, leaving your guests raving about the delectable offerings long after the celebrations have ended.
At Shangri-La Hotel Abu Dhabi, your outdoor wedding becomes a narrative of elegance, romance, and the joy of togetherness. It's a place where cherished moments are etched into the memory, and the beauty of the surroundings mirrors the love that fills the air.
Al Maryah Island
On the radiant shores of Abu Dhabi's coastline lies a hidden gem of elegance and modernity – Al Maryah Island. This dynamic and vibrant location offers a unique blend of urban sophistication and natural beauty, making it an ideal choice for couples seeking an extraordinary outdoor wedding venue.
The charm of Al Maryah Island lies not only in its picturesque surroundings but also in the impeccable attention to detail that it offers. The island's venues are equipped with modern facilities, ensuring that every aspect of your wedding is flawlessly executed.
Sheikh Zayed Grand Mosque
Enter a world of majestic beauty and spiritual reverence at the Sheikh Zayed Grand Mosque – an awe-inspiring masterpiece that stands as a symbol of unity, culture, and grace. This iconic mosque in Abu Dhabi offers a truly exceptional setting for couples seeking a remarkable outdoor wedding venue.
As you step into the grand courtyard of the mosque, you are greeted by the sheer magnificence of its architecture. The pristine white marble and intricate details of the mosque create a sense of serenity and splendor that is unmatched. The vast open space of the courtyard offers a captivating backdrop for an outdoor wedding ceremony that feels almost otherworldly.
Tips for Planning an Outdoor Wedding in Abu Dhabi
1. Choose the Right Season
Abu Dhabi experiences hot temperatures during the summer, so consider planning your wedding during the cooler months from October to April. The weather during these months is more pleasant, allowing you and your guests to enjoy the outdoor setting comfortably.
2. Prepare for the Heat
If you're planning an outdoor wedding during the warmer months, be mindful of the heat. Provide shaded areas, fans, and cold refreshments to keep your guests comfortable. Consider scheduling the ceremony during the late afternoon or early evening when the temperatures are cooler.
3. Legal Requirements
If you're having a destination wedding in Abu Dhabi, familiarize yourself with the legal requirements for getting married in the UAE. Research the necessary paperwork, timelines, and legal processes to ensure everything is in order.
If you need more elaboration on this topic, check out our article on the best tips for a multicultural wedding in UAE.
4. Work with Local Vendors
Local vendors are familiar with the area and can provide valuable insights and recommendations. They can also help you source authentic decor, local cuisine, and unique entertainment options that reflect the culture of Abu Dhabi.
Finding the best local vendors in UAE can be hectic therefore, trust Monasabats on this and visit our website to explore the best local vendors of the region today!
5. Stay Hydrated
With Abu Dhabi's climate, staying hydrated is crucial. Have water stations readily available for guests and consider offering refreshing beverages like mocktails or infused water to keep everyone cool and hydrated.
Conclusion
Abu Dhabi's outdoor wedding venues offer couples a chance to exchange vows in a setting that mirrors their dreams. Whether it's the soothing embrace of the beach, the lush gardens, the desert's captivating beauty, or the fusion of nature and cityscape, these venues provide a canvas on which couples can paint their love story.
As the sun sets on their wedding day, the memories created in these stunning venues will forever be etched in their hearts, a testament to the everlasting charm of Abu Dhabi's outdoor wedding magic. Moreover, you can explore our Abu Dhabi event services section to get the best deals and services according to your needs.