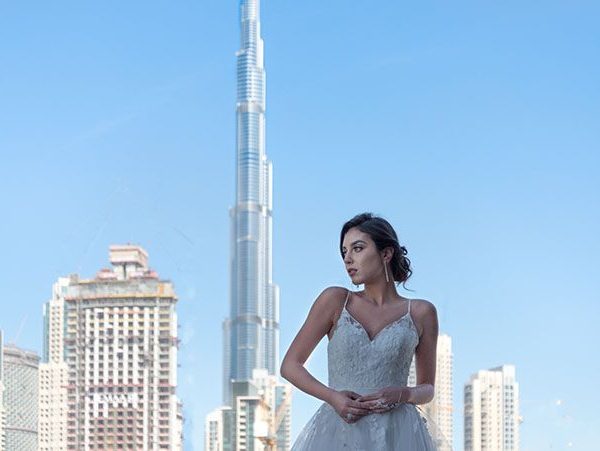 Being in love entails more than just expressing your affection for someone. Every couple who is in love comprehends that it is about the thrill, excitement, amusement, recollections, joy, and enduring experiences that they share together.
Dubai is an excellent choice for a romantic travel destination. Explore many activities for couples to enjoy in Dubai, as it offers an extensive range of choices to suit all tastes.
The Most Romantic Wedding Venues in Dubai
In this article, we provide you with the exact locations in Dubai where you can find astonishing experiences that you can enjoy with your loved ones, many of which may only happen once in a lifetime.
1. Ritz-Carlton
This beachfront resort is located on The Walk in Dubai, which resembles the French Riviera. Its Mediterranean-style architecture, beautiful gardens, turquoise waters, and sandy beach provide great photo opportunities. The resort can accommodate both small family gatherings and large wedding celebrations of up to 500 guests.
Their team of experienced wedding planners, chefs, and in-house florists will work closely with you to make sure every detail is just as you want it. The wedding package offers several perks, such as a bridal suite for last-minute preparations, a one-night stay with breakfast and late check-out, a three-tier wedding cake at no added cost, a 60-minute spa treatment for the couple, and more.
2. Burj Al Arab
If you have a flexible budget and want your wedding to be absolutely incredible, consider Burj Al Arab Jumeirah. The Al Falak Ballroom has a décor inspired by the 18th-century Viennese Opera House that is as luxurious as it gets.
They also offer a summer wedding package with a variety of customizable options, such as personalized menus, bespoke wedding cakes, table setups, flower arrangements, dance stages, and more! Your wedding planner will handle all of these details, so you can relax and enjoy your big day.
You will receive a package that includes a free one-night stay with breakfast in your suite, a late checkout, a guided photo shoot at popular locations, and a complimentary one-way transfer within Dubai. For those who want a peaceful wedding preparation, you can use our private outdoor leisure facility measuring 10,000 sqm. Additionally, you can attend a mindfulness yoga session by the infinity pool or relax in the spa treatment rooms with assistance from our expert therapists.
3. Anantara the Palm
Anantara The Palm has a team of planners who can help you create a personalized wedding package to suit your needs. They can help you choose from getting married with a view of the blue Arabian waters with your feet in the sand, on the poolside terrace, or in the ballroom with a grand banquet. Whatever your preference is, the team will make sure to provide you with a seamless experience.
4. Hilton Ras Al Khaimah Resort and Spa
The hotel is big and has a private beach that stretches for 1.5 kilometers. You can enjoy the beach, palm trees, turquoise water, and sunset. If you prefer something else, there is a pool and three impressive banqueting rooms. For your wedding, you can work with dedicated specialists to design your special day. You can choose to have a DJ, live band, or make a grand entrance on horseback.
5. Le Meridien Al Aqah Beach Resort in Fujairah
At Le Meridien Al Aqah Beach Resort in Fujairah, you can enjoy stunning views of the Hajar Mountains, the Indian Ocean, and beautifully maintained lawns. The resort offers customizable wedding packages with an Arabic, Indian, or European theme, and their expert planners will ensure that every detail is taken care of. If you're looking for a romantic and intimate wedding experience on the beach with warm sand underfoot, the private beach is the perfect option.
If you are planning a big outdoor celebration, the poolside lawns surrounded by beautiful gardens and lit up by trees would be perfect. The Hajar lawn can hold up to 1,000 guests, while the ballroom can accommodate up to 600 guests.
6. One and Only Royal Mirage
The One and Only Royal Mirage in Dubai is a great location for a beautiful wedding ceremony that celebrates natural beauty. This resort has everything you need, including gorgeous gardens, stunning architecture, and luxurious honeymoon options. Whether you want to take photos or host a banquet, the royal ballroom with golden mashrabiya and crystal chandeliers is perfect.
7. Cavalli Club Restaurant & Lounge
The Cavalli Club Restaurant & Lounge is a place of opulence and extravagance that leaves a lasting impression. Its modern dining room, adorned with sparkling chandeliers, serves delicious Italian contemporary cuisine that will amaze your guests.
The outstanding wine and cocktail selections will also add to the cheer for the wedding night. Getting married at the Cavalli Club Restaurant & Lounge will create an unforgettable experience.
8. The Palace Downtown
The Palace Downtown provides a picturesque backdrop for weddings with its stunning city views. Its terrace is ideal for small, outdoor weddings. The Palace also has several renowned restaurants such as Thiptara, Asado, and Edwaan, each offering unique dining experiences. Guests can marvel at the Burj Al Khalifa and the Dubai Fountain while enjoying delicious meals.
9. Mala Yachts
If you want to get married in a peaceful and stunning setting away from the city, consider getting married on an open boat. You can choose to have your ceremony during sunrise or at sunset with a beautiful view of Dubai's skyscrapers.
Mala Yachts is the ideal choice for a stress-free wedding, offering a variety of yachts suitable for weddings of any size. With Mala Yachts, you can begin your new life in an unforgettable location, making it one of the best wedding venues in Dubai.
10. Atlantis the Palm
Located on the famous Palm Islands, Atlantis The Palm has some of the best wedding venues in Dubai. The Atlantis Ballroom can accommodate up to 2000 people and has a private entrance, stylish reception area, and direct access to the Royal Terrace.
Their top-notch chefs can accommodate any dietary preferences and create a customized menu, providing your guests with an unforgettable culinary experience. The Royal Bridge Suite provides a stunning 180-degree view of Palm Island and the Arabian Sea, making it the perfect setting for an unforgettable romantic experience.
11. Nikki Beach Resort & Spa
Nikki Beach Resort & Spa, located on the beachfront with a view of Pearl Jumeira, offers a picturesque beach setting for weddings and luxurious accommodations. It is a popular choice for wedding venues in Dubai with a range of amenities that cater to couples' dream weddings.
Following the wedding ceremony on the sandy beach, guests can enjoy contemporary cuisine at the beach lounge while the couple captures great photo opportunities on the private beach. Nikki Beach Resort & Spa is the perfect place to start a new life with your spouse-to-be, with 15 ultra-deluxe villas boasting exclusive access to private patios and terraces, complete with private pools and dining areas. It's the ideal destination for a dreamy and relaxing honeymoon experience.
12. The Farm
Consider hosting your dream wedding in a peaceful and intimate setting away from the busy city, at The Farm. The Farm is a restaurant situated in a beautiful botanical garden overlooking a tranquil river, providing an ideal backdrop for exchanging vows with your loved one.
The restaurant offers fresh and high-quality catering inspired by various cuisines from around the world, including Thai, Mediterranean, Middle Eastern, Indian, and Asian, all in harmony with nature. The Farm is one of the most desirable venues among many fantastic options, so don't hesitate to consider it.
13. Ossiano
While Ossiano may appear to be a typical fine-dining restaurant, its floor-to-ceiling aquarium and exceptional seafood make it a truly unique location for a proposal. The experience is unforgettable, and the addition of popping the question creates an incredibly romantic evening.
14. Sonara Camp
Sonara Camp offers a unique and romantic way to propose in the UAE's desert landscape. They can help you make your proposal idea a reality and even arrange a photographer and drone to capture the event. After the proposal, you can enjoy dinner and stargazing before returning to your private luxury tent.
If you are new to Dubai's hot and rich region, then make sure to read our article on planning the best desert wedding in 2023!
15. Al Maha Desert Resort & Spa
One of Dubai's most romantic hotels offers luxurious tents with private pools, handcrafted furnishings, and butler service. Inspired by traditional Bedouin setups, the hotel is located in the dunes and provides a private and romantic staycation experience.
Conclusion
We hope you found our guide helpful on the most romantic wedding and reception venues in Dubai. If you need assistance finding your ideal theme and venue, make sure to visit our website for the most romantic wedding venues in UAE.