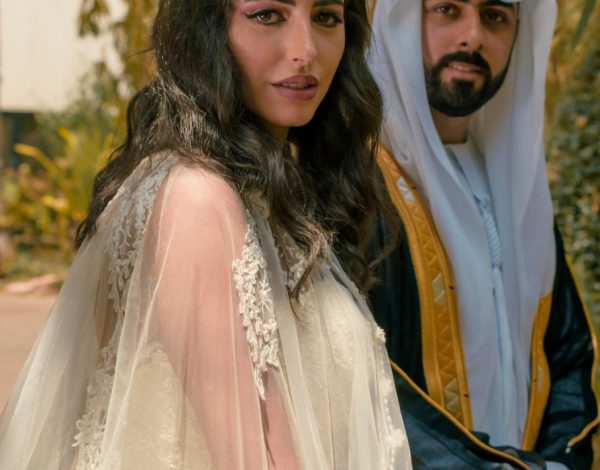 To participate in an Arabian wedding, it's essential to be aware of the clothing options that blend traditional and modern customs. Knowing these dress options will help you choose what to wear, whether you're a guest or the bride/groom.
Arabian weddings are known for their beautiful cultural fusion, and the attire worn reflects this uniqueness. This guide will provide you with information about traditional and modern Muslim wedding attire. It can help you choose what to wear or recommend to your loved ones for upcoming weddings this season.
But before that, check out our amazing guide on the best makeup artists in UAE to make your special day look unforgettable!
Best Arabian Wedding Fashion Trends To Try
Even though Arabian wedding fashion is filled with some of the most iconic trends, we have picked the ones that stay in fashion for years. The fashion trends include,
1. Arabian Bridal Capes
Bridal capes with an Arabian style have been a part of traditional wedding fashion for a long time. They have proven to be timeless and always in style. Capes are a wonderful addition to your bridal look, adding elegance, modesty, and a touch of drama, whether you wear a hijab or not.
2. Arabic Bridal Turban
Turbans have become a popular trend among women who wear hijab. They are a modern interpretation of the traditional hijab. Whether or not it is your preferred style, it is undeniable that turbans have been trending for some time now. Additionally, more and more brides are choosing to wear turbans instead of the traditional hijab on their wedding day.
3. Long Sleeves
Wearing long-sleeved bridal gowns has been a tradition for a long time. Even in 2023, designers such as Amsale and Enzo Miccio are creating beautiful and unique bridal gowns with this timeless feature. They also enhance the bride's appearance, transforming it into an elegant one. With a personalized bridal gown from designers, you won't have to worry about the fit.
4. Choosing a Gold Wedding Dress
A beige hijab that has a matching net is an excellent choice for a bride. It is decorated with sequins and worn with heavy jewelry on the head, making it very attractive. Brides who prefer heavy clothing appreciate this trend because it covers their necks, allowing for intricate beaded work to be done around the collar line. This will make them stand out in the crowd with a heavenly aura.
5. Flared Dresses
Choosing a draped dress for your wedding can be a bold and unique choice that will make you stand out and be remembered by your family for years to come. Many famous people in the Arabian region have also worn drape dresses. If you're considering this option, go for it!
6. Red Bridal Wear
If you're someone who loves elegant red attire on their big day but is not from Pakistani or Indian regions, you can explore some new trends in Indo-Pak Bridal Couture. However, for Muslims living in the Pakistani and Indian regions, a red bridal dress is a must.
7. Pink Reception Dress
Many Arabian brides prefer the color pink because of its soft and innocent tone. If you're a bride and aiming for pastel tones, then a soft pink shade is the perfect choice for your reception. To add a bit of glamour, opt for some smokey eye makeup and nude lips.
8. Silver Embroidery
If you want to achieve a royal look with embroidery, choosing silver is a good option as it is the second-best color after gold. Silver works well with a variety of colors, particularly white. For your wedding day, consider choosing a dress with silver embroidery if you plan to wear white.
9. Kaftan
A kaftan represents purity and an all-white kaftan with gold work patches is a great choice for a conservative Arabian wedding. It's a simple yet elegant option for brides who want something on a lower budget. If you prefer simplicity, avoid adding a heavily worked hijab and simply wear a nice pair of high heels with the attire.
10. Mermaid Style Dresses
The mermaid-style bridal dress is a type of Western long dress that fits tightly around the legs and flares out towards the bottom. To achieve a modest look, you can add a cape just like the one worn by this bride. This style provides a contemporary option for those who are seeking a new take on traditional Arabian wedding fashion.
11. Pairing Flower Accessories
Adding flower accessories can turn a simple outfit into a glamorous one. For their wedding day, brides can use flower accessories to create flower crowns or hijab tiaras. These accessories are suitable for both traditional and modern Arabian wedding fashion trends.
12. Net Detailing
The latest trend is cutwork fabrics on the net, which are readily available in the market. Consider using them on your wedding day. If you want a subtle bridal look, choose a pastel-toned net-detailed gown or an all-white net-detailed gown.
13. Floral Embroidery
If you're looking for a simple bridal outfit that isn't too extravagant, consider choosing one with matching flower embroidery. A dress in which the embroidery only goes around the bodice and stops halfway, creating a minimalist look. This option is ideal if you're going for a simple kaftan style too.
14. Hijab and Tiara
Enhance the enchanting ambiance of your fairytale event by adorning yourself as a princess. Opt for an exquisite gown and glamorous makeup to dazzle on your special day. Showcase your veil over the Hijab cap and accessorize with a sparkling tiara for the ultimate regal touch. The embellished white dress pairs perfectly with a silver tiara, radiating pure elegance.
15. Accessories
If you want to show off your necklaces and earrings, many brides choose a head wrap-style hijab. But if you prefer a traditional Arab style, you can still add a fancy and glamorous touch with a head accessory like a flower crown or danglers that you can tie around the hijab.
16. Button-down Dress
If you are a petite young lady looking for the perfect gown for your big day, consider a white and baby-yellow dress with buttons and frills. However, since frills can be difficult to manage, it's important to make sure that you love them before choosing this style.
Ending Note
We hope that this article has assisted you in comprehending the traditional and contemporary fashion trends of Arabia. If you are currently seeking wedding attire, we suggest visiting Monasabat's article on the best and affordable wedding dresses under $500.