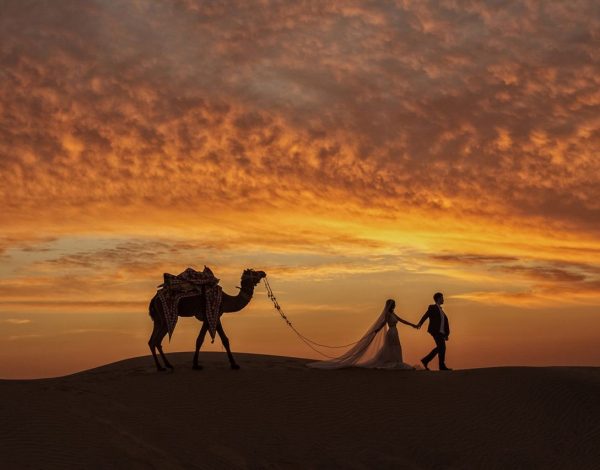 Planning a wedding that will impress your guests with unique and exciting ideas can be a challenge, even though it's supposed to be a joyous and celebratory time for both families. We understand that it can be challenging to plan a wedding that stands out and impresses guests.
That's why we've put together a list of 74 unique ideas to help make your special day even more unforgettable. Weddings are traditionally a time for families to come together and celebrate love, and we want to help make yours extraordinary.
74 Unique Wedding Ideas to Wow Your Guests
Explore our list of unique wedding ideas that include creative decorations and thoughtful gifts for loved ones. With these ideas, you can make your wedding one-of-a-kind and truly unforgettable!
1. Plan a Wedding with a Specific Theme
Choosing a theme for your wedding can make it stand out from others. You have the freedom to select any theme that appeals to you, such as a beach or fairytale wedding, or a rustic one.
2. Selecting Unique Wedding Invitations
It is important to ensure that your wedding invitations are unique and reflect your personality and style, as they will be the first impression that your guests have of your wedding.
3. Having a Signature Gahwa or Drink Booth
Design a custom gahwa or drink booth for your wedding that represents your unique taste and style. This is an excellent way to infuse your wedding with a personal touch.
4. Use Personalized Wedding Favors
Choosing personalized wedding favors is a wonderful way to express gratitude toward your guests. Consider various options like personalized candles, keychains, or even mini bottles of perfume.
5. Have a Personalized Photo Booth
Using a photo booth at your wedding is a fun way to create lasting memories. Your guests will enjoy taking pictures and capturing the moment.
6. Choose Unique or Traditional Wedding Music
Consider opting for non-traditional wedding music that showcases your individuality and taste. Options include genres like jazz, country and rock.
7. Going for a DIY Wedding
Planning a DIY wedding can make your special day more personalized and unique. You can design your own centerpieces, wedding favors, and even your own wedding dress.
8. Use Personalized Wedding Decorations
Select distinctive wedding decorations that showcase your individuality and taste. You may opt for flowers, candles, or even balloons.
9. Have a Destination Wedding
A destination wedding can add uniqueness to your wedding, as you have different options such as a beach or a mountain resort to choose from.
10. Have a Brunch Wedding
Opting for a brunch wedding can be a cost-effective choice for your special day. Additionally, your guests would appreciate the unique experience of having breakfast for dinner.
11. Have a Pet-Friendly Wedding
Why not include your pets in your wedding? It's a great way to make your special day unique, and your guests will love seeing your furry friends.
12. Choose Personalized Wedding Cakes
Select distinct wedding cakes that showcase your personal style and characteristics. Various designs are available, such as naked cakes, drip cakes, or even donut cakes.
13. Have a Backyard Wedding
A backyard wedding can be a cost-effective and personal option for your special day. It allows for a distinctive and intimate wedding experience.
14. Choose Your Own Wedding Centerpieces
Select wedding centerpieces that are distinctive and complement your individuality and preferences. Consider incorporating flowers, candles, or vintage books among other possible options.
15. Merge Your Reception with a Brunch
Merging a brunch with your reception will be convenient for both you and your guests. It is also an affordable solution especially if you live in a highly expensive city or country.
16. Use Unique Wedding Place Cards
When selecting your wedding place cards, consider your personality and style, and opt for unique materials like wood, acrylic, or seashells.
17. Get a Detailed and Personalized Wedding Ceremony
Design a personalized wedding ceremony that mirrors your individuality and preferences. Consider incorporating personalized vows, readings, or a sand ceremony to make it unique.
18. Selecting Classy Wedding Lighting
To add a personalized touch to your wedding decor, consider using distinctive lighting options such as candles, fairy lights, or lanterns that mirror your individuality and taste.
19. Choose a Minimal Bouquet
A minimalist bouquet can make a stylish and sophisticated statement that a larger, more traditional bouquet cannot. It's an excellent choice for a modern bride looking to showcase her personal style.
20. Choose a Custom Monogram
For a more personalized wedding, you can include a custom stamp of your and your partner's first initials throughout the event. You can brand it on things like wedding signs, table numbers, and favors for consistency.
21. Top Off your Cake with an Accent
Add a cake topper that matches the style and theme of your wedding. For example, for an industrial-style wedding, a rustic-chic light bulb topper would be a great choice. If you are having a beach wedding, consider a flamingo topper.
22. Set Up a Farm Stand
To offer useful party favors, consider providing fresh fruit and small baskets or mini crates that guests can fill before leaving. For a creative touch, you can also decorate apples or pears with personalized stickers that feature your names.
23. Consider Neon
Although wooden signs and mirrored signs are undeniably charming and elegant, they tend to be quite popular. To stand out, consider choosing a creative sign that aligns with your theme. For example, you could opt for a fun neon sign with a sweet love-themed message. Another idea is to use a neon sign with your wedding hashtag as a backdrop for the photo booth at the reception.
24. Give Wedding Day Cookies
Have you considered matching your cookies to your décor? Adding cookies with your monogram or shaped like the numerals of your wedding date to the dessert table is a great way to personalize the event.
25. Pay Homage to the State Where You Fell in Love
This represents the location where you and your partner began your journey. Consider incorporating elements related to that state into your menu. If your state has a slogan, it can also provide inspiration.
26. Go for a Fun Seating Arrangement
For your wedding ceremony, pick unique seating that suits your wedding style, such as floor cushions or tree stumps with tribal print instead of ordinary benches or chairs. However, make sure the seating is also comfortable. If you have a specific ambiance in mind, consider alternatives like bales of hay, poufs, or ottomans.
27. Give Frozen Treats
If the weather on your wedding day is very hot, consider renting a Snow-Cone machine, popsicle bar, or ice cream stand to keep your guests cool.
28. Prepare Family Desserts
To show respect to your elders and include family traditions, consider adding family desserts to your wedding menu. Briefly share the backstory behind each recipe.
29. Exciting Reception Table Names
Create a special name for each reception table that is related to your relationship. Provide a brief explanation on a tent card placed on the table.
30. Hire a Live Artist
You can consider hiring an artist to create a live painting of your ceremony or reception. This painting will be a unique and cherished artwork of your special day that you can proudly display on the walls of your future home.
31. Display Your BirthStone
For a unique addition to your tablescape, consider using your birthstone. These amethyst napkin rings with a boho glam vibe are especially delightful. You could go even further and base your wedding theme around your birthstone, incorporating it into everything from the invitations to the frosting on your wedding cake.
32. Go for a Creative Guest Book
Here's another idea for a guest book: Provide a glass bowl along with cards and pens next to it. Include a note kindly requesting guests to share a cherished memory they have of you or your spouse, an item from their bucket list, or a helpful piece of marriage advice.
33. Tasting Corner for Your Wedding Dishes
For your special occasion, a tasting corner would be a great place to offer your guests your best dishes. Including baklawa, baba manshor, and mandi would add to the traditional and sophisticated feel.
34. Have a Winter Wonderland Wedding
Consider hosting a winter wonderland wedding if you want a charming and romantic theme with plenty of décor ideas. Embrace natural winter elements such as snowflakes and evergreen branches, or showcase the beauty of winter through ice sculptures. The possibilities are endless for creating a magical winter wonderland atmosphere on your big day.
35. Give Your Pet Some Limelight
If you are a pet lover and want to make your wedding decoration a reflection of your furry friend, then here's an idea for you. Recently, a couple celebrated their cocktail hour by dedicating it to their adorable pug Charlie. To pay homage to him, they creatively designed escort cards with the silhouette of Charlie and an endearing phrase "Life with you is like a walk in the park."
36. Have a Memorable Exit
Instead of choosing traditional wedding cars, consider a personalized exit that matches your style or wedding theme. For example, an edgy couple may opt for a motorcycle, while a chic and glam pair may prefer jetting off into the blue.
37. Give Your Guests Some Comfort
If you're planning to have an outdoor wedding, consider the potential weather and the comfort of your guests. In case of cold weather, provide blankets for them to use. Similarly, for sunny weather, offer parasols for shade or umbrellas during possible rain.
38. Give Them VIP Welcome Baskets
If you're having a destination wedding, prepare welcome baskets that contain locally-made crafts, food, and drinks that showcase the locality. Also, prioritize guest hospitality by showing how much you care about them. It can make a significant impact on their experience.
39. Send Your Guests Home with Some Tasty Snacks
Your guests may be hungry after dancing all night, so consider giving them a midnight snack as a favor to enjoy in their hotel room, such as shoestring fries or popcorn.
40. Choose Some Colors
If you'd like to create a unique color scheme, you can draw inspiration from color-loving artists like Rothko, Van Gogh, or Pollock. Experiment with color, pattern, and shape to achieve your desired result.
41. Take Inspiration from Your Family Pictures
It is recommended to share pictures of your mother's bouquet with the florist to help them create a similar design. However, it is advised to discuss this idea with your photographer beforehand. Additionally, recreating a meaningful moment from your parents' wedding is also a unique and interesting option.
42. Incorporate Traditional Dance
To make your wedding more unique, consider adding traditional dance to the ceremony or reception. You can hire professional dancers who specialize in belly dancing or dabke to add an exotic touch to the evening. You could even have them perform during the bridal party entrance!
43. Serve Traditional Cuisine
You can add a personal touch to your wedding by offering traditional cuisine during cocktail hour or dinner. Some popular options are hummus, falafel, and shawarma. Don't forget about desserts such as baklava and katayef (a type of pastry similar to pancakes).
44. Add Traditional Textures
To make your wedding more memorable, try adding unique decor elements like traditional textiles such as lanterns, rugs or tapestries. You can incorporate them as a backdrop at the altar, table runners, or as tent decor. Another option is to include vibrant colors and patterns in your floral arrangements or centerpieces for an added burst of color.
45. Give Your Guest Some Traditional Gifts
To make your special day even more personal, think about making a custom wedding favor for your guests. You could give little jars of traditional spices or candles with personalized scents like oud or frankincense. This is a great way to show your gratitude and give your guests something special to remember the occasion by.
46. Add Elements of Poetry
It could be a nice idea to include love poetry in your ceremony or reception. Poetry has been an important part of art, literature, and culture for thousands of years. To add this element, you may use poems by famous poets such as Rumi or Hafiz in your vows, or perhaps have a poetry reading during cocktail hour.
47. Have a Henna Party
A henna party is a celebration that takes place before a wedding, where the bride's hands and feet are decorated with intricate henna designs. It's an enjoyable way to embrace one's cultural traditions and offers an opportunity to bond with loved ones.
48. Add a Persian Tea Station
Persian tea stations are a staple of Middle Eastern weddings, showcasing their renowned hospitality. These stations offer guests a variety of teas, spices, and sweets to enjoy throughout the celebration. To add an authentic touch, traditional samovars, teapots, and delicate glasses can be used for decoration.
49. Go for a Traditional Zaffa Procession
A zaffa is a cultural wedding procession that typically features drumming and dancing. It's a lovely way to incorporate Middle Eastern traditions into your celebration. You can either hire a professional zaffa group or invite your family and friends to participate in the procession.
50. Add a Touch of Vintage
To give your Middle Eastern wedding a vintage feel, consider using classic cars, vintage furniture, and antique decor. You can include various items like vintage telephones, old-fashioned lamps, classic doors, and vintage curtains. You may also use centerpieces with a vintage touch, such as vintage glassware or crystal vases, and vintage-inspired stationery.
51. Go for Some Local Entertainment
If you want to bring a traditional touch to your wedding, consider adding belly dancing, drums, and Arabic music. Middle Eastern weddings are famous for their festive entertainment. You may also want to hire a zaffa band, a group of musicians who play traditional music while walking the newlyweds to the reception.
52. Go for Some Arabic Calligraphy
To enhance the beauty of your Middle Eastern wedding, you can incorporate the traditional art form of Arabic calligraphy. You can hire a calligrapher to create personalized invitations, seating cards, or even a custom wedding monogram. Moreover, you can also use Arabic calligraphy as a stunning backdrop for your ceremony or reception.
53. Use Moroccan Lanterns
If you want to add a touch of beauty and uniqueness to your wedding, consider using Moroccan lanterns. You can choose from a variety of shapes, sizes, and colors and use them as centerpieces, hanging decorations, or even aisle markers. When they are lit, they create a warm and welcoming atmosphere that is perfect for a romantic wedding.
54. Incorporate Draping and High-quality Fabrics
If you want to achieve a lavish and sophisticated atmosphere for your wedding, try incorporating draping and fabrics. You can drape lightweight fabrics from the ceiling to create a gentle, flowing effect, or hang them as a backdrop for the ceremony or reception.
55. Host a Moroccan-style Lounge
To make your wedding more cozy and intimate, consider having a Moroccan-inspired lounge. Use low tables and cushions on the floor and decorate with Moroccan textiles, lanterns, and other decor. This space can serve as a relaxing spot for guests to chat during the reception and also provides a beautiful backdrop for photos.
56. Include Belly Dancing Performance
Hiring a professional belly dancer or dance troupe can make your wedding reception more festive and entertaining with the traditional Middle Eastern dance. Guests can participate in the visually stunning performance and have fun while experiencing the culture.
57. Install a Hookah Lounge
Including a hookah lounge in your wedding can be a fun and relaxing addition. A hookah is a water pipe designed for smoking flavored tobacco, which is a popular pastime in many countries. By setting up a hookah lounge area with comfortable seating and gentle lighting, guests can enjoy a social and calming atmosphere during the entire celebration.
58. Offer a Sweet Station
Sweets are an important part of weddings. To create a dessert display that combines Middle Eastern and western sweets, you can include traditional treats like baklava, Turkish delight, and qatayef, along with fresh fruits and Arabic coffee. This will result in a delicious and authentic dessert table.
59. Add-in a Haldi Ceremony
The Haldi ceremony is a traditional pre-wedding ritual in Indian and Pakistani cultures that is also gaining popularity in Middle Eastern weddings. It entails applying a paste made of turmeric and sandalwood on the bride and groom, adding a beautiful touch to your wedding customs.
60. Host a Traditional Coffee Ceremony
To welcome and show hospitality to their guests, the host serves fragrant Arabic coffee and dates or sweets during an Arabic coffee ceremony. Including this ceremony in your wedding is a distinctive and intimate way to honor the cultural tradition.
61. Go for a Camel Ride or Falcon Display
To surprise your guests at your outdoor wedding celebration, consider opting for cultural entertainment that is unique, such as a camel ride or falcon display. These activities are an integral part of Middle Eastern culture and can help create a distinctive and unforgettable experience for your guests.
62. Have Creative Signage
Make your wedding unique by incorporating creative signage like welcome signs, directional signs, or personalized Instagram hashtags. Get creative with materials like chalkboards, wood, or mirrors to create signs that stand out.
63. Get Some Persian Rugs
Incorporating Persian rugs into your wedding decor can bring a touch of sophistication and warmth to your special day. These rugs are renowned worldwide for their intricate designs and exceptional workmanship.
64. Appreciate Your Matchmaker
To show appreciation for the person who introduced you and your significant other, add a garland of greenery to the back of their chair and attach a sign that reads "matchmaker." Consider giving other important people in your relationship a special seat or even a flower crown to wear during the event, such as longtime friends, acquaintances, or former teachers.
65. Have a Rustic Barn Wedding
Consider a rustic barn wedding for a charming and cozy atmosphere. You may enhance your decorations with rustic elements, such as burlap table runners, mason jar centerpieces, or even a seating area made of hay bales.
66. Use Unique Wedding Guest Book Alternatives
To make your wedding guest book more personal, consider unique alternatives that suit your style. For example, you might opt for a Polaroid photo guest book, a fingerprint tree, or even a vintage typewriter for your guests to type messages.
67. Choose Some Wedding Aisle Markers
To personalize your wedding, consider selecting distinctive aisle markers that match your style and character. Some ideas to consider are lanterns, flower petals, or even vintage books featuring romantic quotes.
68. Have a Harry Potter-inspired Wedding
Opting for a Harry Potter-themed wedding is a wonderful and enchanting idea. You can infuse aspects from the Harry Potter universe into your wedding decorations, such as the colors of the Hogwarts houses, wand favors, or even a Sorting Hat ceremony.
69. Have a Wedding Picnic
Hosting a wedding picnic is a cost-effective outdoor wedding option. Your guests can enjoy food from baskets while lounging on blankets.
70. Have a Hollywood glam Wedding
One luxurious and elegant wedding theme is Hollywood glam. You can add Hollywood-inspired decorations to your wedding, like a red carpet entrance, a Hollywood sign backdrop, or a paparazzi photo booth.
71. Go Sustainable
Promote sustainability and save the Earth by going waste-free on your wedding day. It's an important message to share with your partner and guests.
72. Use No Fireworks
Fireworks are not environmentally friendly and can cause pollution. Additionally, they can be expensive. Consider using scented items to create an inviting atmosphere for your guests instead.
73. Give Hand Written thank You Letters to Your Guests
Writing hand-written letters is a very thoughtful gesture for your guests. It shows how hospitable and caring you are, and it will leave them with a big smile on their face after the wedding.
74. Go Affordable
Choosing affordable options for your wedding can lead to a happier journey. While it's important to please your guests, keeping things affordable can create a simple and joyful atmosphere for everyone.
Conclusion
To make your wedding day memorable, you can use various unique ideas that suit your personality and style. For instance, you may opt for a vintage-themed or Harry Potter-inspired wedding. Just remember that the day is all about you and your partner, so let your creativity shine through and make it truly special.
Also if you are planning for your big day, make sure to read our guide related to having a complete wedding planning checklist for 2023!