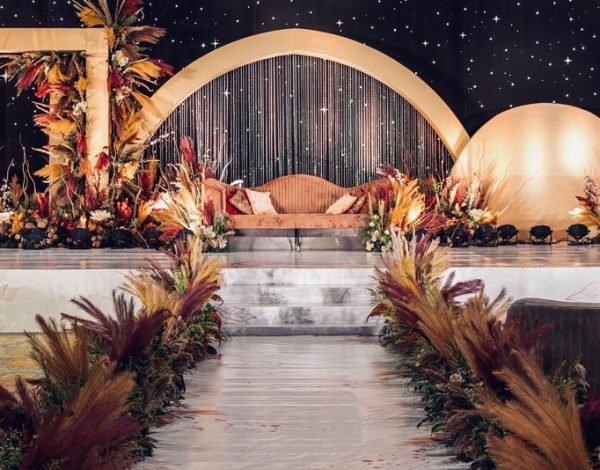 If you're feeling overwhelmed by all the details involved in planning your wedding, don't worry. You can reduce your stress by using a wedding planning checklist. This comprehensive guide covers everything from the early stages of your engagement to the final moments of the reception. Make sure you read the article till the end to understand the complete journey of planning for a wedding.
Things to do Within 12 Months Duration
By following this checklist, you can stay organized, stay on track, and be sure that you don't miss anything important. Although we have given our recommendations, you can always choose the steps that suit your routine and budget.
1. Making a Friendly Wedding Budget
To start planning for your wedding, it's important to decide on a budget. Have a conversation with your partner and determine how much you're willing to spend. Then, allocate funds to each category, such as the venue, catering, and photography. Make sure to set aside some extra money for unforeseen expenses.
2. Choosing a Suitable Wedding Date
When planning your wedding, selecting the date is a tough decision. Be sure to take into account factors such as the season, weather, availability of your preferred venue and vendors, and any significant dates or events that may coincide with your wedding day.
3. Creating a Guest List for Your Friends & Family
To plan your wedding, you need to create a guest list for your venue, catering, and other details. Make a preliminary list including family, friends, and colleagues, and update it as needed. It's important to discuss with your partner and family to ensure everyone is in agreement.
4. Selecting Your Wedding Team
When planning your wedding, it is important to carefully choose your bridesmaids, groomsmen, and other attendants. They will have several responsibilities, from helping with the planning to standing by your side during the ceremony. When making your selection, consider your relationship, personality, and availability.
5. Having a Pre-Wedding Workout Plan
To achieve your desired physical appearance for your wedding, it's recommended to start a fitness and wellness plan 6 to 12 months in advance. A diet, exercise, and mindfulness plan will not only help you look your best, but also keep you emotionally and mentally healthy during the planning process.
6. Contracting a Wedding Planner
If you are finding it difficult to manage or plan your wedding, it might be a good idea to hire a wedding planner who can help you with everything from creating a budget to choosing the right vendors, and even coordinating events on the day. Additionally, they can offer creative suggestions, guidance, and emotional support to make the entire planning process easier for you.
7. Choosing a Theme for Your Big Day
Choosing a wedding theme that matches your personality and style is important in creating the overall look and feel of your wedding day. Take into account your personal tastes, the season, and your venue. From rustic to beachy, or glamorous, select a theme that resonates with you.
8. Investing in Wedding Insurance
To safeguard yourself from potential damage and liabilities on your wedding day, it's wise to invest in special events insurance, given that weddings involve significant financial expenditure. You can apply for coverage as soon as you start the planning process or after finalizing a venue. However, some insurance agencies may even provide coverage the day before your wedding.
9. Booking a Romantic Venue
Booking your wedding venue early is crucial as it sets the tone for your wedding day and impacts the catering, decor, and seating arrangements. Make sure to visit the venue, ask questions, and review the contract carefully to avoid any stress.
10. Making Vendors Your Allies
To make your wedding day a success, it is important to carefully choose your vendors for services such as catering, photography, and entertainment. Take the time to research vendors in your area, read reviews, and set up consultations to find the best match. Communicate your vision and preferences clearly to ensure a smooth and enjoyable experience with your vendors.
11. Select the Your Caterer
If you are wondering how you will feed 150 of your closest friends and family at your wedding? Start by hiring a trusted catering service, such as the venue's in-house caterer or a preferred caterer recommended by your planner. Don't hesitate to be creative with the menu and include personal favorites for guests to enjoy.
Things to do in the 11 month
This is a period where one of your preparation is already completed and you are at your second stage of wedding planning.
12. Creating a Digital Portal for Reaching
Creating a digital wedding portal is a practical method of informing your guests about important details like the date, location, dress code, and accommodations. To match your wedding theme and style, select a suitable design or template and incorporate pictures, anecdotes, and necessary information.
13. Choosing "The Dress"
When planning your wedding, picking out your wedding dress is a crucial decision. It's important to begin shopping for your dress as soon as you can while keeping your personal style, budget, and venue in mind. Remember to choose accessories too, like shoes, jewelry, and a veil.
Monasabat's amazing wedding gown designers can help you achieve your desired look without being heavy on your budget. Make sure you check out our post-bridal dresses
14. Planning the Actual Wedding Ceremony
The wedding ceremony is an important part of your special day as it reflects the love and commitment you have for each other. Take the time to carefully choose your officiant, music, readings, and vows.
15. Planning the Much Awaited Reception
Make your wedding reception a memorable and enjoyable occasion for both you and your guests as it is a celebration of your love and commitment. Select your desired menu, drinks, entertainment, and decor. You could also consider adding special touches like photo booths, favors, and guest books.
Things to do in the 10 Months Duration
This is the third stage of wedding planning and from here all the practical work starts.
16. Sending Cute Wedding Invitations
It is recommended to send your wedding invitations at least 6-8 weeks prior to your wedding date. You may want to send them earlier for out-of-town guests. Make sure to include essential information such as date, time, location, dress code, and RSVP instructions. Consider adding a personal touch to your invitations, for example, custom stamps or calligraphy.
17. Planning a Suitable Timeline
To ensure the smooth running and timely execution of all events on your wedding day, it is important to create a detailed timeline. You can work with your wedding planner or day-of coordinator to include all events like getting ready, ceremony, and reception. You should also share the timeline with your vendors and wedding team to keep everyone informed.
18. Booking Hotel-Room Blocks for Guests
Reserving a guest block for your wedding guests is a thoughtful gesture that provides them with comfort and space to look their best on your big day.
19. Taking Romantic Engagement Photos
This is a wonderful chance to try out different pastel themes and outfits to see which ones look best on you and your partner. Even if you're usually uncomfortable in front of the camera, engaging in a photography session can help you overcome your camera shyness and practice some great poses.
If you want to make your wedding photography sophisticated and romantic, Monasabat's couple photography services are the ones to rely on.
Things to do in the 8 Months Duration
The fourth stage includes addressing your loved ones with official pre-wedding events to promote your wedding day.
20. Attending Pre-Wedding Events
Attending pre-wedding events like engagement parties, bridal showers, and bachelor/bachelorette parties is a wonderful way to celebrate with loved ones. Remember to show your appreciation to the hosts by giving them a meaningful gift or writing them a thoughtful note.
21. Confirming Details with Your Vendors
Before your wedding day, make sure to contact your vendors and confirm all the details such as timing, delivery, set-up, and payment arrangements. It's crucial to ensure everyone is aware of any last-minute changes to avoid any misunderstandings.
22. Practicing Your Wedding's Most Important Phases
To feel comfortable and confident while giving your own vows or speeches at your wedding, practice them beforehand. You can enhance your delivery by rehearsing in front of a mirror or recording yourself.
23. Get Your Beauty and Grooming Services
To make sure you and your wedding party can receive beauty and grooming services like hair, makeup, and manicures, you should schedule these appointments well in advance. Monasabat's bridal makeover services are the best in UAE as they serve exactly what a bride needs!
Things to do in the 6 Months Duration
This is the fifth stage of your planning and from here you will start choosing locations for your honeymoon period.
24. Packing for Your Honeymoon
To avoid any inconvenience, make sure to pack all the necessary items beforehand if you plan to go on your honeymoon right after your wedding. It's a good idea to pack separate bags for the wedding night and honeymoon. Remember to bring important documents like passports and travel papers.
25. Enjoying the D-Day
On your wedding day, make sure to take some time to relax and have fun. Remember that this day is all about celebrating your love and commitment, and everything else is just an added bonus. Take the time to connect with your partner, family, and friends, and cherish every memory.
26. Planning for the Unexpected
If you are planning an outdoor wedding, it's essential to account for unforeseen weather conditions. To prepare for such a situation, you should think about renting an indoor space or a tent as a backup plan. Make sure to inform your vendors and guests regarding any changes in the plan.
Things to do in the 3 Months Duration
This is the sixth and most crucial period where you just have to focus on offering the best experience to your guests.
27. Create a Seating Chart
To ensure your guests' comfort and happiness during the reception, it's important to create a seating chart. You can make this task easier by grouping guests with common interests or backgrounds. Be sure to also place any guests with special needs in a convenient location.
28. Scheduling Final Fittings
To make sure that your wedding dress, bridesmaid dresses, and suits fit perfectly, schedule a final fitting. Don't forget to bring the required accessories, and look out for any modifications or adjustments.
29. Arranging Transportation & Security
If you have out-of-town guests or multiple locations for your wedding, it's important to have reliable transportation. You can consider renting a limousine, shuttle bus, or car service to ensure that everyone arrives safely and on time.
30. Plan Your Wedding Day Photography
Collaborate with your wedding photographer to plan your photo shoot and capture lasting memories of your big day. Discuss options such as scheduling a first look, engagement photos, or family portraits. To make it easier, you can always hire Monasabat's wedding production services to have a dreamy wedding video and photography session.
Things to do in the 2 Months Duration
The seventh stage includes everything about self-care and self-love. So, make sure you follow this stage with dedication.
31. Having a Recording to the Rescue
Consider hiring a wedding videographer to capture the emotions and energy of your special day in a timeless and beautiful video that you can cherish for years to come.
32. Choosing Your Wedding Rings
When choosing wedding rings, it's important to pick a design that reflects your personal style and lasts a long time. Shopping together can help ensure that the rings have both durability and timelessness, as well as being a meaningful symbol of your commitment to each other.
33. Creating Your Wedding Playlist
Selecting the right songs for your wedding playlist is crucial to create a joyful and vibrant ambiance at your reception. Make sure to pick songs that match your individual preferences and personality, and don't forget to include particular tracks for your significant moments such as your first dance.
34. Starting to make DIY Items
Starting some DIY projects to enhance your wedding can be a wonderful idea. You can create items that match the theme of your wedding to add a more classical and romantic touch. If you don't know, you can always check out some good DIY tutorials to have a better understanding.
35. Beginning Your Premarital Counseling
Premarital counseling can benefit couples, whether they are religious or not. According to experts and couples, it has helped many. During counseling, an objective third party can help you discuss issues you may not have thought about yet. Additionally, counselors can give you tools for healthy conflict resolution so that you can be prepared for disagreements when they arise.
36. Getting Your Marriage License
To legalize your marriage, make sure to obtain a marriage license. Check the requirements in your state or country and get your license well before the wedding day.
Conclusion
If you're feeling overwhelmed by planning your wedding, use this ultimate wedding planning checklist to help you stay organized, on schedule, and relaxed. It's important to be clear with your partner, family, and vendors, and to make sure everything aligns with your vision and style. With proper planning and preparation, you can have a stunning and unforgettable wedding day that celebrates your love and commitment.