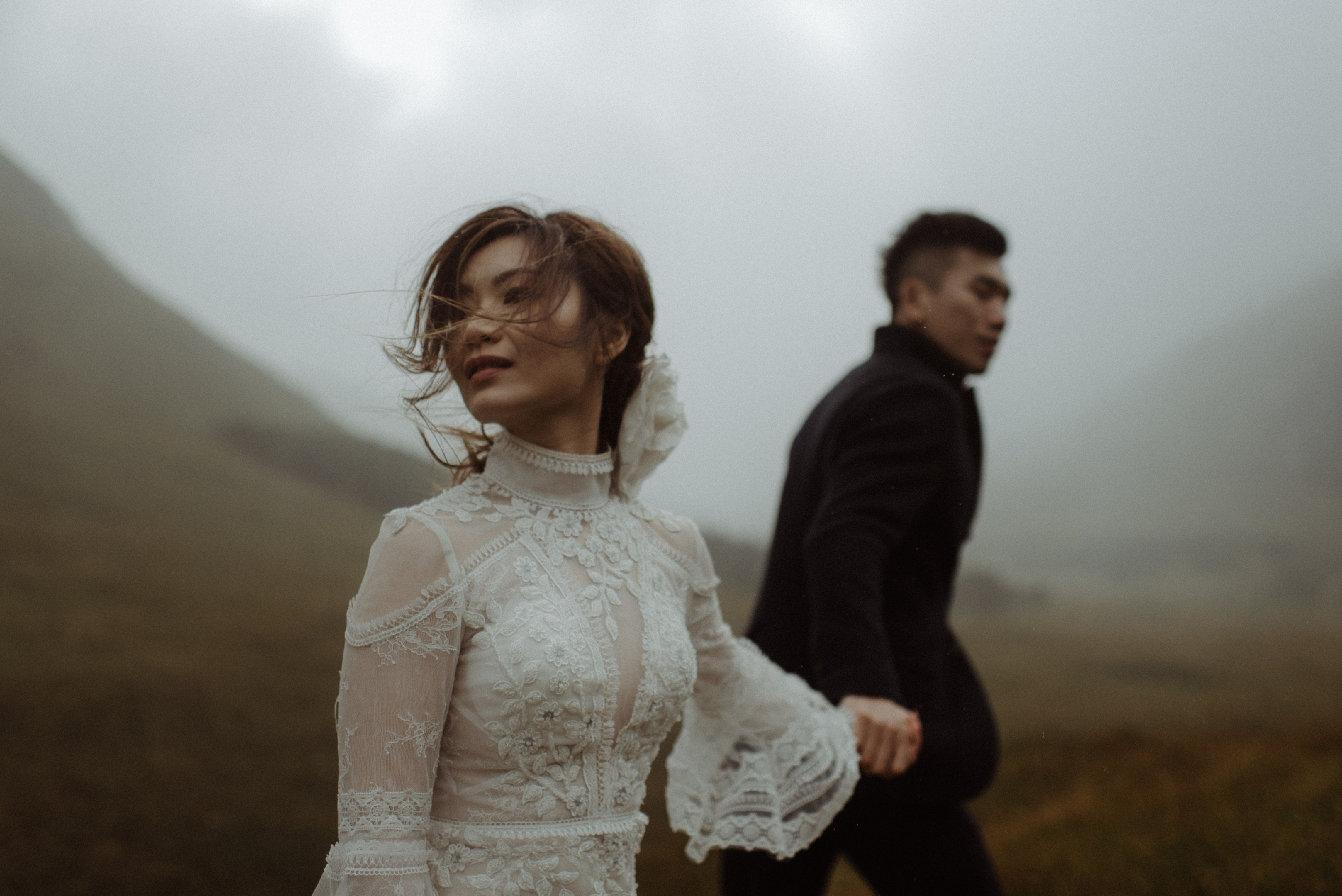 Wedding photography is an evolving art that revolves around capturing the beauty and emotions of a couple's special day. With the summer of 2023 in full swing, new and exciting wedding photography styles are emerging, offering wedding photographers and couples, fresh ideas and creative possibilities.
Whether you're a photographer looking to kick start your career or a couple planning your wedding, it's important to research the trends and wedding photography styles specific to the UAE region. In this blog, we will explore the best wedding photography styles & trends to watch in 2023, guaranteed to make your wedding day truly unforgettable.
But before you rush to read our insights, we encourage all the budding photographers to read our article on Tips for Capturing Emotions at Arabian Weddings, so that you can kick start your career with a bang!
Top Wedding Photography Styles and Trends of 2023
With a plethora of popular wedding photography styles before you, picking the ideal wedding photography style that truly resonates with your preferences might feel like embarking on a delightful yet puzzling journey. But with the list, we prepared for you including all the different wedding photography styles and trends you will be quick to pick the one suitable for you and your special day.
1. Traditional Wedding Photography Styles and Trends
Classic and traditional wedding photography exudes a familiar charm, reminiscent of the timeless snapshots adorning our parents' wedding albums. While these photographs embrace a more conventional approach, captured at eye level and often posed, their enduring appeal remains undeniable.
Though they may not always be the most creatively intricate, their ability to withstand the passage of time is unmatched. It's common for wedding photographers to weave elements of traditional photography into their repertoire, mainly when orchestrating family portraits in the aftermath of the ceremony.
2. Fine Art Wedding Photography Styles and Trends
Fine art photography, traditionally associated with the realm of film, has evolved into a captivating hybrid as its popularity soars. This style is renowned for its ethereal, luminous, and airy qualities. It offers a gentler, more delicate, and pristine aesthetic compared to standard digital approaches.
Fine art photography harmonizes beautifully with the bright and airy style, a signature achieved when capturing images on film. Many fine art wedding photographers today are either dedicated film shooters or draw inspiration from the film medium, all driven by a shared desire to attain that distinctive finesse.
3. Photojournalistic Wedding Photography Style
The photojournalistic style of wedding photography has the remarkable ability to capture the essence of genuine emotion and create lasting memories. It's no wonder that many photographers have embraced a photojournalistic approach, akin to narrating a compelling news feature.
These skilled professionals approach the wedding day as if it were an unfolding story, allowing moments to naturally unravel and then skillfully preserving the enchantment through their lenses.
4. Aerial Wedding Photography Style
While an entire wedding day might not call for exclusive aerial photography, the inclusion of drone photographs has become an enticing option embraced by an increasing number of photographers. Drone imagery serves as a valuable enhancement, particularly suited for capturing outdoor weddings, artistic photos, the grandeur of ceremony exits, and when the festivities unfold outdoors, the captivating essence of a reception.
5. Vintage Style Wedding Photography
The widespread fascination with vintage photo filters has given rise to a substantial demand among couples for the charm of vintage wedding photography. There's an undeniable allure to images that exude a sense of age and timelessness, an appeal deeply rooted in the emotions of nostalgia they evoke.
The captivating magic lies in the ability of these color distortion filters to instantaneously transform natural light and ordinary moments into captivating works of art, a phenomenon that continues to captivate individuals, prompting them to employ these filters even in their everyday snapshots.
6. Dark and Moody Style of Wedding Photography
As the name suggests, dark-and-moody photographs encapsulate an atmosphere that is precisely that – dark, moody, and profoundly dramatic. Within this captivating style, photographers artfully capture the couple amidst shadows and bold lines, giving rise to unconventional and imaginative patterns of light.
This creative approach often involves editing and shooting techniques that delve into the realm of darkness, ultimately crafting visuals that evoke an evocative and impactful ambiance of the wedding ceremony.
7. Dramatic Wedding Photography Style
Dramatic wedding photography revolves around the interplay of flawless lighting, intense emotions, and a keen focus on the central subject. Unlike common misconceptions, the essence of drama in this context is not negative; in fact, it holds a positive connotation and its own unique style within the realm of photography.
Infusing drama into an image entails crafting an atmosphere that distinctly resonates and captivates. It's about sculpting a mood that elevates the visual impact, allowing the photograph to stand out in its uniqueness and artistic resonance.
8. Editorial Wedding Photography Style
Conversely, at the far end of the spectrum, editorial wedding photos exude a distinctly posed aesthetic, akin to a high-fashion magazine photoshoot. While this style remains relatively uncommon in the realm of wedding photography, it holds its own particular style.
Typically, couples entering into wedding planning with a specific vision in mind opt for this editorial approach. They seek to transform their wedding photography into their own magazine photoshoot with luxurious, upscale wedding photo albums.
9. Documentary Wedding Photography Style
Documentary photography employs techniques and methodologies akin to those of a photojournalist narrative. Film Photographers capture the candid photos and moments of a wedding, weaving together a visual chronicle that encapsulates the essence of the day's unfolding tale.
Through their skillful lens, they craft a collection of photographs that serve as a compelling narrative for all the important moments of the wedding day, preserving genuine emotions and posed photos that collectively narrate the unique story of the wedding day.
Wedding Photography Trends in UAE
This list is made after keeping the standards and trends of photography in UAE. We hope you read till the end to keep up with them.
1. Capturing the Raw Moments
Candid photography is the number one popular trend in weddings because it captures genuine emotions and candid moments between couples, families, and friends.
This style focuses on emotional photos that showcase the raw beauty of love and human connections rather than focusing on formal group shots. You can also check out our amazing photography services for the best clicks of your big day.
2. Embracing the Beauty of Backdrops
The trend of destination weddings is on the rise, offering an incredible chance to capture mesmerizing photographs against picturesque backgrounds. Whether you opt for a tropical beach or a charming Dubai desert, the possibilities for capturing ethereal imagery with light and airy ambiance are limitless.
Most Photographers use different styles and post-processing techniques to create unforgettable and artistic images with stunning backdrops that can be cherished forever.
3. Going Green
Eco-friendly wedding photo style is all the rage these days as couples now prioritize environmental consciousness. This wonderful trend entails adopting eco-friendly practices, hosting intimate ceremonies, minimizing paper waste, opting for eco-friendly packaging, and choosing venues that offer farm-to-table meals. We absolutely adore this shift towards sustainable and mindful celebrations of love!
4. Using Cinematic Filters
In recent times, cinematic photography has experienced a delightful resurgence. This style brings a classic and timeless look to your wedding photos and film photography, creating a warm and nostalgic atmosphere with its soft focus.
The right film photographer will help you get the perfect group portraits along with creating a magical bird's eye view of your wedding party. They are also well equipped with amazing post-production capabilities to help you capture the once-in-a-lifetime moments.
5. Photo Sets
While photo booths or photo booths have long been a staple at weddings, couples are now seeking to elevate the experience by incorporating beautiful drapery and décor. This enhances the overall atmosphere, taking the photo booth from a simple booth to a visually captivating and interactive focal point. Not only are couples embracing this trend, but even wedding photographers are recognizing its value in elevating the wedding experience for the bride and groom.
6. Guest Role
While it's crucial to hire a talented wedding photographer to capture all the significant moments and intricate details of your special day, some couples are embracing a new trend in 2023. They are now offering their guests the chance to take unique and intimate shots on their own.
One way this is done is by leaving Polaroids and disposable cameras on the dinner tables or allowing guests to bring them to the dance floor. This expands upon the popular film trend by adding a more personal perspective from the guests, putting them at the heart of the celebration.
It's a wonderful way to capture candid and heartfelt moments that may not be captured by a professional photographer and allows everyone to contribute their own memories to the wedding album.
Other Lesser Known Types of Wedding Photography Trends
To shed light on lesser-known wedding photography trends, we have included some of the most interesting practices as our honorable mentions. Potential photographers can try their luck in any of these to start their wedding photography career in the UAE.
These lesser-known types of wedding photography trends are as follows,
Mobile Photography
Unedited Ceremony Photos
Analogue Photography
Neon Centric Photography
Bold Photography
High Contrast Photography
Vertical Images
Motion Photography
Muted Colours
Sub Filters
AI-generated
Masked Up
Minimalistic
360 Photography
Experimental
Bottom Line
We believe you're eager to explore the latest trends in the photography sphere, especially when it comes to weddings. Understanding the couple's preferences is essential for capturing those unforgettable moments. If you're a soon-to-be couple looking for an extraordinary photography experience in the UAE, Monasabat is your destination for the region's finest photography experts.