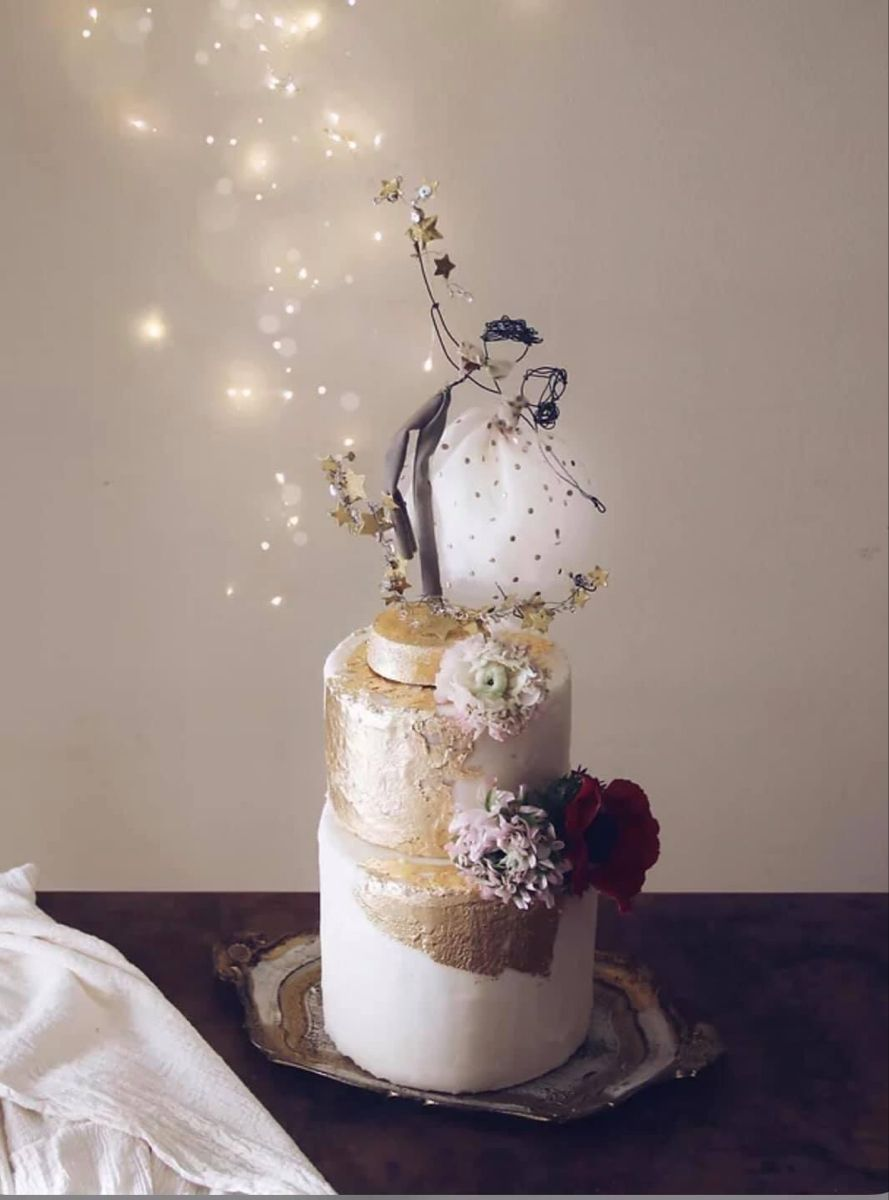 Few things in this world captivate our senses as much as a decadent personalized wedding cakes – a true masterpiece in taste and style. While dessert trends may ebb and flow, there's an irreplaceable charm in savoring a delicious cake that tantalizes not only your taste buds but also your aesthetic sensibilities.
Beyond the delightful task of choosing cake and frosting flavors, lies an enchanting opportunity to add a personalized touch with a custom cake topper. In this article, we will be giving you some amazing custom wedding cake toppers and personalized wedding cake inspirations.
Before we dive into the details of wedding cake toppers, do check out our article on Unique Wedding Ideas to Wow Your Guests! Now let's get into the details of wedding cake toppers.
Personalized Wedding Cakes with Custom Topper Ideas for 2023
Allow us to be your guide on the quest for the personalized wedding cakes with custom toppers and custom wedding cake accessories. We've delved into extensive research, meticulously curating a collection of the finest options, with your desires and preferences firmly in mind.
Our mission is to ensure that every aspect, from the delectable cake itself to the uniquely crafted accessory, aligns seamlessly with your vision and creates an unforgettable experience on your special day.
A beautiful and elegant option for a unique wedding cake is a floral-painted cake with a metallic silver top. The classic beauty of delicate hand-painted flowers and the sophisticated shimmer of metallic accents are expertly combined in this beautiful confection.
Imagine jaw-dropping floral illustrations gracefully adorning your wedding cake, uniquely tailored to your taste. Paired with an exquisite metallic silver cake topper, this harmonious combination is not only frame-worthy but also destined to make a grand statement.
These artistic elements combine to produce a fascinating display that captures the attention and leaves your guests speechless in awe. The seamless blending of the beauty of nature and artistic skill brings to life a celebration of love and beauty.
A Statement White Cake with Calligraphy Initials is a stunning and sophisticated dessert that leaves a lasting impression. This elegant confection features a pristine white exterior, radiating an air of elegance and purity.
The true charm lies in the personalized touch of calligraphy initials artfully crafted on the cake's surface, creating a sense of intimacy and individuality. This tasteful combination of artistic finesse and delectable flavors makes it a captivating centerpiece for any grand celebration.
As guests savor each delightful bite, they are sure to be enchanted by the harmonious blend of exquisite design and scrumptious taste, making it a cherished highlight of the occasion.
3. Gold-Accented Florals with Hand Sculpted Cake Topper
Gold-Accented Florals with Hand-Sculpted Wedding Cake Topper is a breathtaking cake masterpiece that exudes opulence and artistry. The cake features exquisite floral decorations adorned with shimmering gold accents, adding a touch of luxury and splendor.
What sets this creation apart is the meticulous craftsmanship of the hand-sculpted toppers, which elevate the design to a level of unparalleled uniqueness and charm. With each delicate petal and intricately formed detail, these custom wedding cake toppers become the crowning glory of this extraordinary dessert.
4. Pastel Palette Wedding Cake with Wooden Cake Topper
The Pastel Palette Wedding Cake with Wooden Cake Toppers is a dreamy and enchanting creation that captures the essence of romance and rustic charm. This delightful cake features soft and soothing pastel hues that evoke feelings of warmth and serenity.
The addition of wooden cake toppers brings a touch of natural elegance and adds a personalized element to the design. The seamless blending of delicate colors and the rustic allure of wood creates a harmonious visual symphony that appeals to both the heart and the eye.
The Fruity Wedding Cake Paired with Monogram Cake Toppers is a delightful fusion of flavors and personalization. This delectable cake showcases a burst of fruity goodness, adding a refreshing and vibrant twist to traditional wedding desserts.
The mouthwatering combination of luscious fruits tantalizes the taste buds and leaves a delightful lingering sweetness. To add a touch of individuality, the cake is adorned with elegant monogram cake toppers, making it uniquely tailored to the couple's special day.
As each guest savors the delightful medley of flavors and admires the personalized toppers, they will be charmed by the thoughtfulness and creativity that went into this exceptional wedding centerpiece.
Bottom Line
In summary, personalized wedding cakes with custom toppers open up a world of possibilities to make your special day even more memorable. Let your wedding cake become a sweet symbol of your love story, a centerpiece that will leave a lasting impression on both you and your guests.
Hold On! Before you leave our page, we recommend you check out amazing event services in UAE to make all your events memorable and cherished for you and your loved ones!