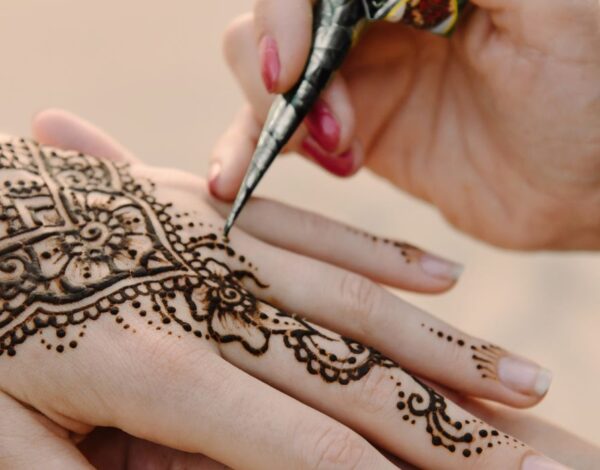 Bridal Arabic Mehndi Designs
Finding the perfect Arabic mehndi design for your wedding day can be hard, especially if you want something unique that no one has really done before. It's a big challenge to find something that you'll love and will look beautiful on your hands. The difficulty of finding the best design may mean that you need to try some different ideas before finding something suitable. I searched through different sites trying to find the best designs so here is a compilation of some of the most amazing Arabic bridal mehndi designs that I could find!
Jewellery Style Feet Mehndi Design: Stunning Elegance
This Arabic mehndi design for feet resembles intricate jewellery. The design speaks for itself with its stunning beauty and gorgeous stain. It's a perfect choice for brides who want their feet to look beyond gorgeous.
Modern Feet Henna Art: Fresh and Delicate
This half-and-half feet mehndi design offers a fresh and modern take on Arabic henna art. It's ideal for brides who prefer simplicity and delicate details. The combination of delicate strokes and floral patterns creates an eye-catching design.
Fingertip Trendy Arabic Mehndi Design:
Small Jaal Finger Henna: Focal Point on Fingers
If you want your fingers to be the center of attention in your bridal mehndi, then this design is a must-save. The small jaal pattern creates an intricate and captivating focal point on the fingers.
Abstract Finger Tip Design: Artistic Expression
If you're not a fan of monotonous designs, go for an abstract finger henna art. This design allows for artistic expression and adds a unique and unconventional touch to your fingertips.
Finger Mehndi Design with Unique Details: Setting Trends
This finger mehndi design incorporates unique details that set it apart from other designs available on the internet. By choosing this design, you can start a trend and make your Arabic bridal mehndi stand out.
Leaf Motifs on the Fingers: Timeless Charm
Finger mehndi designs with leaf motifs are timeless and always in style. They add a touch of nature and grace to your fingertips, enhancing the overall beauty of your mehndi.
Finger Arabic Mehndi with Leaves & Spaces: Easy and Stunning
These finger mehndi designs with leaves and spaces are easy to create yet stunning in appearance. They provide a unique twist to your Arabic bridal mehndi and contribute to its overall beauty.
Finger Arabic Mehndi on the Sides: Unconventional Placement
If you think traditional finger henna designs are cliché, try applying them to the sides of your fingers for an unconventional placement. This creates an interesting and eye-catching look that adds a modern touch to your mehndi.
Easy Finger Mehndi for Modern Brides: Simple and Pinterest-Worthy
This simple Arabic mehndi design for fingers is perfect for modern brides. It requires a mix of lines, dots, and swirls to achieve a Pinterest-worthy henna art. It's effortless yet beautiful.
Beautify Your Fingers with This One: Accentuating Leaves
The thick leaves in this design serve as an excellent choice if you want to accentuate your fingers with mehndi. The design adds a unique and stylish touch to your fingertips
Peacock Bridal Mehndi for Full Hands: Regal Beauty
Combine the elegance of arabic henna design with the beauty of peacock motifs, and you have a winning combination. This design showcases the regal charm of peacock-inspired patterns, making it a perfect choice for a bridal mehndi.
Minimal Peacock Mehndi Design: Simple and Striking
Arabic mehndi design and peacock patterns go hand in hand, as exemplified by this minimalistic design. Even those without extensive artistic skills can create a peacock design easily. The simplicity of this design adds to its charm and makes it an attractive choice.
Jaali Arabic Mehndi Design: Unique Mesh Patterns
When your outfit choices are ravishing and unconventional, why settle for a plain arabic henna design? Your hands deserve attention too. This design combines a mesh pattern with floral and leaf motifs, creating a stellar example of unconventional arabic mehndi designs. It is unique and eye-catching, making a bold statement.
Contrasting Full-Hand Mehndi Design: Harmonious Duality
Witness a never-before-seen arabic mehndi design featuring two contrasting patterns together. The simplicity of this design is what makes it popular among modern women. The contrasting patterns complement each other perfectly, creating a harmonious and visually appealing effect.
Arabic Mehndi Design for Feet:
Minimal Arabic Bridal Mehndi for Feet: Timeless Elegance
If you've always loved simple mehndi designs for your feet, this one is perfect for you. The mandala with a lotus motif adds a timeless touch to the design, creating an elegant and graceful look for the feet.
Mehndi Design with Glitter for Feet: Sparkling Accent
Add a touch of glamour to your feet with arabic mehndi designs enhanced with glitter. While temporary, the addition of glitter creates a visually appealing and eye-catching effect. You can even match the glitter color with your lehenga for a coordinated look.
Intricate Mehndi on Feet: Exquisite Beauty
This design is a favorite for obvious reasons. Featuring intricate patterns and detailed illustrations, it adds a touch of artistry and beauty to your feet. It is a captivating and visually stunning option for brides who want to showcase the beauty of mehndi on their feet.
Feet Mehndi with a Modern Vibe: Detailed Allure
For brides who prefer heavily detailed mehndi on their feet, these designs are a perfect choice. With deep application all over the feet and ankles, these designs exude allure and modernity. They ensure that your feet receive as much attention as your hands.
Minimal Feet Mehndi Design: Balanced Simplicity
Balance your minimal hand mehndi design with a complementary design on your feet. This design keeps it simple yet elegant, adding a touch of beauty to your feet without overpowering the overall look.
Dainty Arabic Feet Mehndi: Delicate Charm
For those who prefer to go all out on their hands but keep it minimal on their feet, this arabic mehndi design is an excellent choice. It features dainty and delicate patterns that enhance the beauty of your feet without being too overwhelming.
Bridal Mehndi with Traditional Elements: Timeless Elegance
Capture the beauty of your hands with this arabic mehndi design that focuses on the back of your hands. The inclusion of an English rose vine and a classic mesh pattern adds an elegant touch. This design seamlessly blends traditional and modern elements, making it an irresistible choice for any bride.
Leaf Branch Patterned Mehndi: Embrace Nature's Beauty
Embrace the beauty of foliage with this arabic mehndi design featuring delicate leaf branches scattered across your hand and forearm. Perfect for the bride who prefers simplicity over extravagance, this design showcases the beauty of nature in an understated and charming way.
Detailed Backhand Arabic Mehndi: Fresh and Exquisite
This fresh and exquisite backhand arabic mehndi design will leave a lasting impression. With intricate details and captivating patterns, it is a perfect choice for brides who appreciate the artistry and beauty of mehndi.
Arabic Mehndi Design for the Fingers: Simple Elegance
You don't need to be an artist to create this elegant finger-focused design. It's an ideal choice for bridesmaids or the mother of the bride who want a touch of arabic flair without being too elaborate. Simple yet stunning, this design will enhance the beauty of your fingers.
Beautiful Full Hand Arabic Mehndi: Elaborate Delight
If you love arabic designs but also desire an elaborated look, this design is perfect for you. With its intricate patterns and full coverage, this beautiful arabic mehndi design offers a captivating and visually stunning effect.
Bridal Mehndi with Separated Designs: Divinely Unique
Get ready to be amazed by this bridal mehndi design, divided into three parts with unique patterns. The distinct sections add depth and character to the design, making it a true standout. Prepare to fall in love with this divinely unique creation.
Personalized Arabic Henna Art: Unique and Meaningful
Express your individuality with personalized arabic henna art. From couple portraits to meaningful symbols, this trend allows you to incorporate elements that hold significance to you. The result is a one-of-a-kind design that truly reflects your personality and story.
Mehndi Design That Defines Your Culture: Celebrate Heritage
Celebrate your cultural heritage with this mehndi design that pays homage to your roots. Personalized arabic mehndi designs are gaining popularity, as they beautifully combine tradition with a modern twist. The examples above showcase innovative designs that highlight your culture in a prominent and elegant way.
Elaborate Bridal Design for Full Hands: Traditional Splendor
For the bride who dreams of a traditional and elaborate mehndi design for her special day, this arabic mehndi design is the perfect choice. With intricate layers of mehndi illustrations, this design captures the essence of timeless beauty and splendor.
Beautiful Arabic Bridal Mehndi: Layers of Charm
Contemporary Floral Arabic Design: Embrace Modern Elegance
This modern twist on floral Arabic design is sure to leave you mesmerized, especially when adorned with a dark stain. The intricate details and the play of negative spaces make it a stunning choice for those seeking a unique and sophisticated mehndi design.
Lotus Overdose Arabic Mehndi: A Delightful Display of Elegance
Prepare to be captivated by the intricate lotus art showcased in this Arabic mehndi design. The detailed patterns on both hands exude elegance and sophistication, making it a perfect choice for brides who appreciate the finer details.
Unique Finger-tip Jewelled Design: Minimalist Charm
Not every bride desires a fully covered hand with mehndi, and this minimal Arabic henna design offers a beautiful alternative. The exquisite fingertip design, accompanied by a subtle palm pattern, creates a rich and elegant look, perfect for roka ceremonies, engagements, and more.
Minuscule Arabic Mehndi for an Intimate Wedding: Eccentric Elegance
This Arabic mehndi design may appear simple at first glance, but it incorporates eccentric patterns that add a touch of unconventional charm. The design stands out with its unique combination of simplicity and intricate details, making it a perfect choice for intimate wedding celebrations.
Hand-harness Mehndi Design: Magnificent and Ornate
This design exudes a magnificent vibe, resembling a gorgeous hand harness or haathphool. The intricate bracelet-like pattern wraps around the wrist and extends towards the middle finger, creating a stunning and intricate arabian mehndi design that is truly unmatched.
Mandala Bridal Mehndi: Fusion of Beads and Tradition
In this design, creativity meets tradition as extensive use of beads enhances the intricate mandala pattern. The fusion between the mandala and the beaded elements makes this arabic mehndi design truly captivating, adding an enchanting touch to the bride's hands.
Ornamental Arabic Mehndi Design: Elegance in Simplicity
With a floral vine running from the wrist to the index finger, adorned with dotted strings, this design exudes an ornament-like appeal. Its minimalistic yet eye-catching nature makes it a perfect choice for those seeking a delicate and captivating arabic henna design. Pair it with a delicate haathphool to elevate the overall look.
Contemporary Back-Hand Mehndi Design: Timeless Feminine Grace
Elegance meets intricate detail in this modern back-hand mehndi design. Its feminine appeal and meticulous craftsmanship make it a stunning choice for any occasion. This contemporary design requires expertise to create, and it's definitely worth saving as a source of inspiration for your own mehndi design.
Arabic Mehndi Design with Spaces: Accentuating the Fingers
In this pattern, a significant portion of the hand is left empty, allowing the Arabic henna design on the fingers to beautifully accentuate your manicured nails. This innovative design plays with negative space, creating a mesmerizing visual effect that is sure to impress.
Exquisitely Detailed Mehndi Design: Timeless Beauty
Indulge in the intricate charm of this full-hand mehndi design, which beautifully blends richness with elegance. Despite its intricate details, the design maintains a sense of balance and clarity, making it a perennial favorite among brides. It's an ideal choice for modern brides who seek a timeless and captivating look.
Graceful Butterfly Mehndi Design: Embrace the Newest Trend
Be the trendsetter with this mesmerizing butterfly mehndi design, a fresh addition to Arabic henna art. Its sheer beauty will leave you in awe and make a delightful statement.
Jeweled Backhand Arabic Mehndi: A Millennial's Dream
Designed especially for the millennials, this mehndi pattern with delicate jewel details is truly captivating. It adds a touch of glamour and elegance to your backhand, making it a perfect choice for modern brides.
Lotus Mehndi Art: Delicate Beauty in Variation
The lotus mehndi design showcases the art of variation in thickness, creating a unique and enchanting pattern. Its graceful appeal will surely catch the eye and leave a lasting impression.
Gorgeous Lotus Henna for Brides: A Captivating Blend
Prepare to be amazed by the captivating blend of blooms and jaal in this mehndi design. The combination of lotus patterns with intricate details is simply stunning and will make you fall in love at first sight.
Elegant Lotus Mehndi: Swirls of Enchantment
The graceful swirls and twirls incorporated into these lotus patterns make these designs truly enchanting. Each stroke adds to the overall elegance, resulting in a mesmerizing mehndi art.
Rose Motif Design: A Trending Floral Delight
Prepare to witness these floral Arabic henna designs taking the internet by storm. The uniqueness and beauty of these rose motifs are simply unmatched, making them a popular choice for brides and henna enthusiasts alike.
Easy Rose Arabic Bridal Mehndi: A Touch of Floral Charm
Why limit flowers to just wedding decor when you can adorn your hands with these exquisite floral motifs? These simple yet attractive designs are perfect for intimate weddings, adding a subtle and elegant touch to your overall look.
Floral Bridal Mehndi for Full Hands: A Shower of Blooms
Get ready for a flower shower in the form of an Arabic mehndi design. The thick floral motifs spread all over the hand create a visually appealing and captivating look. It's a perfect choice for those who want to make a statement without going overboard.
Lateral Arabic Mehndi Design: Unconventional Beauty
Break away from mainstream patterns with this unique lateral Arabic mehndi design. The typical floral pattern is created along the lower surface of the hand, offering a fresh and unconventional twist to traditional mehndi art.
Floral Henna Art for Trendy Brides: Embrace Simplicity
If you prefer a shorter sitting time for your bridal mehndi, this floral Arabic design is a must-have. Its simplicity and elegance make it a perfect choice for trendy brides who seek a beautiful mehndi design without the need for extensive application.
Let these captivating Arabian henna designs inspire you as you embark on your mehndi journey, adding grace, beauty, and a touch of uniqueness to your special day.
Intricate Spaces: Creating the Illusion of Fullness
We are captivated by this unique design that cleverly balances intricate details with empty spaces. Despite its minimalistic approach, this mehndi design gives the illusion of fuller hands. Its simplicity is what makes it stand out and add a touch of elegance to your overall look.
Leaflet Arabic Mehndi Design: Embracing Nature's Beauty
If you're searching for a stunning Arabian mehndi design for your roka ceremony, look no further. This design beautifully incorporates the gracefulness of leaves and delicate dot work. The generous application of mehndi in Arabic designs enhances its richness and depth, making it a perfect choice for special occasions.
Simple Leaf Mehndi: A Delicate Touch
For those seeking a minimalist approach, this mehndi design is an excellent option. The focus is on adorning your wrists with breathtaking leaf patterns. This design offers a simple yet captivating look, and it's incredibly easy to create.
Latest Arabic Design on Wrist: Embrace Simplicity
Who says Arabic mehndi designs need to cover your entire hand? This wrist-focused design challenges that notion and presents an appealing alternative. It is perfect for those who prefer a more subtle and delicate look.
Minimal Wrist Bridal Henna: Elegant and Breath-taking
The intricate designs around the wrist in this mehndi pattern exude sheer beauty. If you wish to forego applying mehndi on your hands, this minimalistic design is an ideal substitute. It not only looks stunning but is also simple to create.
Jaal Arabic Mehndi Design: Effortless Beauty
While traditional jaali designs are well-known, this variation offers an effortless twist. With its focus solely on the captivating jaal details, this design gives the illusion of delicate jewelry adorning the hand. It's a truly enchanting option for those seeking a unique and elegant look.
Arabic Mehndi with Motifs: Embracing Elaborate Patterns
This design stands out with its intricate motifs that enhance the beauty of the hand. It is a captivating pattern that catches the eye effortlessly. Modern brides will appreciate its minimalistic yet intricate nature, making it a go-to choice for any special occasion.
Palm Cuff Decorative Design: A Touch of Glamour
Inspired by the trend of palm cuffs, this mehndi design mimics the look of jewelry on the hand. The patterns, such as lotus and leaves, are displayed with finesse. Moreover, this Arabic henna design allows your fingers to remain free, making it perfect for holding a glass of wine or a bouquet.
Simple Floral Mehndi with Leaves: Timeless Beauty
This design evokes a sense of nostalgia, reminiscent of its popularity in the past. Perfect for bridesmaids or those who prefer a simpler style, it still manages to stun with its subtle charm and elegance.
Geometric Arabic Mehndi Design: Tribal-inspired Sophistication
This design showcases tribal tattoo-like geometric patterns, particularly captivating when applied with black mehndi. The bracelet-like pattern on the forearm and bead-like structures adorning the fingers create a visually appealing look. It's an Arabian mehndi design worth bookmarking for its unique and eye-catching appeal.
These Arabic bridal mehndi designs are a testament to the beauty and versatility of henna art. Whether you prefer intricate patterns or minimalist elegance, there is a design to suit every taste. Let these designs inspire you as you prepare for your special day, and make a statement with your captivating mehndi.
Lace-Inspired Arabic Mehndi
Get ready to adorn your hands with the delicate beauty of lace-inspired Arabic mehndi. This design takes inspiration from intricate lace patterns, creating a mesmerizing and feminine look. Delicate swirls, curves, and motifs resembling lacework adorn your hands, adding an elegant touch to your overall bridal look. The lace-inspired Arabic mehndi design is perfect for brides who appreciate the beauty of fine details and want a design that exudes grace and sophistication.
Intricate Maze Mehndi Design
Prepare to be mesmerized by the intricate maze mehndi design that showcases a complex and captivating pattern. This Arabic mehndi design features an interplay of geometric shapes, lines, and swirls, creating a maze-like effect on your hands. The intricate maze pattern symbolizes the journey of life, with its twists and turns, and adds a sense of mystery and allure to your mehndi design. The precise detailing and symmetrical arrangement of the maze design make it a stunning choice for brides who want a unique and visually striking Arabic mehndi design.
Arabic Mehndi with Abstract Bird Motifs
Add a touch of whimsy and charm to your mehndi design with abstract bird motifs. This Arabic mehndi design incorporates the graceful form of birds in an abstract and artistic manner. The fluid lines and shapes of the bird motifs create a sense of movement and grace, enhancing the overall beauty of the design. Whether you choose to depict birds in flight or perched on branches, the abstract bird motifs bring a sense of liveliness and joy to your mehndi design. Embrace the symbolism of freedom and beauty with this enchanting Arabic mehndi design.
Elegant Arabic Mehndi with Hanging Tassels
Make a statement with an elegant Arabic mehndi design featuring hanging tassels. This design draws inspiration from the adornments found in traditional Middle Eastern attire. Delicate strands of mehndi art extend from the main design, resembling the beauty of hanging tassels. These hanging tassels add movement and a touch of grandeur to your mehndi design, creating a captivating visual effect. The elegant Arabic mehndi with hanging tassels is a perfect choice for brides who want to embrace the opulence and regality of Arabic culture in their mehndi design.
Moroccan Inspired Arabic Mehndi
Transport yourself to the exotic and vibrant world of Morocco with a Moroccan-inspired Arabic mehndi design. This design takes cues from the rich and intricate patterns found in Moroccan architecture, textiles, and art. Geometric shapes, symmetrical motifs, and ornate details combine to create a visually stunning and culturally significant mehndi design. The Moroccan-inspired Arabic mehndi design allows you to infuse your bridal look with the mystique and charm of Morocco, adding a touch of uniqueness and cultural appreciation to your special day.
How many styles are there in Mehndi?
There are several styles of Mehndi that have evolved over time. Here are some of the popular styles:u003cbru003eIndian Mehndiu003cbru003eArabic Mehndiu003cbru003ePakistani Mehndiu003cbru003eMoroccan Mehndiu003cbru003eAfrican Mehndiu003cbru003eIndo-Arabic Mehndi
What is the difference between Arabic and Indian mehndi designs?
u003cstrongu003eArabic mehndiu003c/strongu003e designs are characterized by bold, large-scale designs with ample spacing. They often feature geometric shapes, floral patterns, and vine-like motifs.u003cbru003eu003cstrongu003eIndian mehndi designsu003c/strongu003e are intricate and elaborate. Indian designs include highly detailed patterns such as paisleys, peacocks, flowers, and fine lines.u003cbru003eu003cbru003eWhile both styles are beautiful, Arabic mehndi designs are generally more spacious and less intricate, while Indian mehndi designs are more dense and elaborate.
What is circle mehndi design called?
Bridal circle mehndi designs, also known as u0022mandala mehndi,u0022 incorporate intricate circular patterns and are popular among brides for their ornate and elaborate appearance.
Do Muslims do mehndi?
Yes, Muslims do mehndi as it is a cultural practice in many Muslim-majority countries, including during weddings and other festive occasions. Bridal mehndi holds special significance in Muslim weddings.
Is mehndi Indian or Arabic?
Mehndi is a cultural tradition shared by both Indians and Arabs. It is an integral part of Indian and Arabic weddings, with distinct styles and patterns reflecting their respective cultures.
Is henna Night Arabic?
Henna Night, also known as u0022Mehndi Night,u0022 is a cultural event celebrated in various regions, including Arabic and South Asian cultures, where henna is applied to the bride's hands and feet before the wedding.