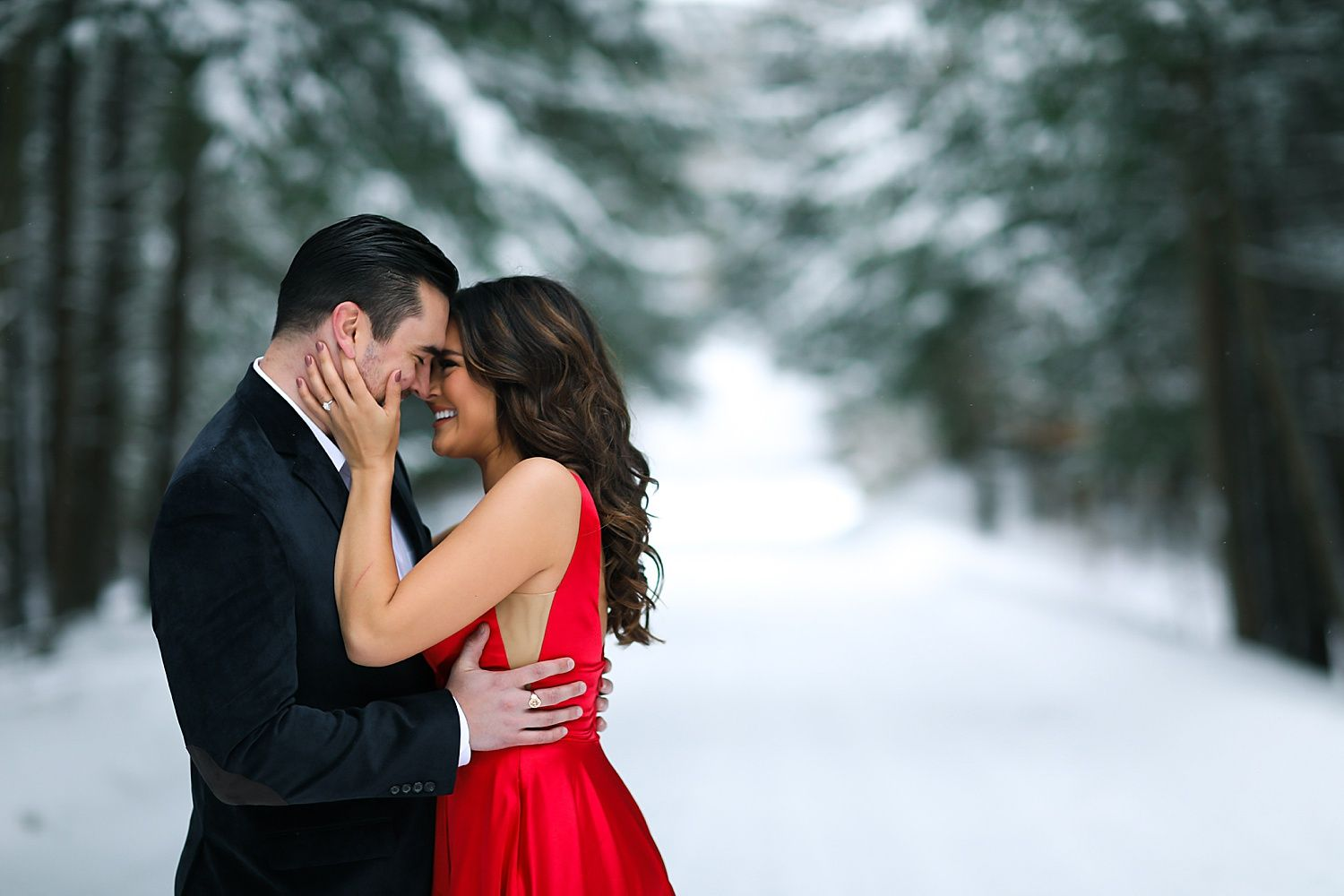 Winter often receives a less-than-favorable reputation, with its blustery weather and snow shoveling demands. However, a winter wonderland wedding beckons us to see beyond the chill and discover the true magic of this season.
While summer and fall weddings might experience a touch of fatigue, your winter wedding will shine as the standout event of the season. Embracing the coziness and intimacy that winter offers, here are some romantic wedding ideas for your special day that are truly enchanting. If you are someone who dreams of having a romantic wedding, check out our picks for the most romantic wedding venues in UAE.
Romantic Wedding Ideas for Winter Weddings
As more couples choose to exchange vows during this enchanting winter season, we have curated a delightful list of romantic wedding ideas for winter season to infuse your ceremony and reception with the magic of the winter.
Our heartwarming suggestions will add an extra touch of joy and wonder to your fairy tale into a real romantic wedding, and you will definitely cherish the celebration of love and togetherness. If you want to know how you can get the best venue for your outdoor wedding ceremony, check out our article on finding wedding venues in UAE.
1. A Dreamy White Theme for a Romantic Wedding
An excellent way to embrace the winter-inspired ambiance is by adopting a dreamy white romantic wedding theme, transforming your wedding venue into a mesmerizing winter wonderland. Imagine your guests stepping into a world of timeless and dreamy fantasy with dazzling all-white decor.
To elevate the sophistication, consider incorporating touches of silver or gold, infusing a touch of opulence into the surroundings. For a playful nod to the season, you can even sprinkle some artificial snow, or go for a full white floral arch, adding a whimsical and enchanting touch to the overall setting. This enchanting romantic wedding ceremony winter union will surely leave your guests in awe, creating cherished memories that will last a lifetime.
2. Romantic Decor Details for Wedding Venue
Red always becomes incredibly romantic in the winter. It is the epitome of warmth, passion, and love, making it a perfect choice for a romantic winter wedding. Regardless of your preferred style, you can glam your wedding aisle and reception space with red flowers.
You can also add these red hues to your table settings, floral arrangements, ceremony seating, centerpieces, and even bold statement displays. The vibrant splashes of red will not only add a touch of allure and romance but also evoke the essence of the season in your romantic wedding ceremony.
3. Table Centerpieces for Romantic Wedding Ceremony
Embracing the spirit of the season, consider incorporating delicate floral centerpieces. Lush florals will not only add a refreshing touch but they will surely elevate the look of your wedding day. If you are having an outdoor wedding, then adding some pastel flowers will make your special day turn into a fairytale.
If you are going for a modern wedding, holding a pastel wedding bouquet that matches the table centerpieces is a great idea. A wedding cake with a pastel floral detail will add further charm for you and your guests.
For fans of potted plants, you can your favorite plants as unique table decorations to give a green look to the venue. Not only will these flowers infuse your venue with a delightful fragrance, but they will also add a touch of natural charm to the ambiance. A wonderful bonus is that you can use white rose petals along the centerpieces to give a royal fairy tale twist to your table settings for your special day.
4. Candles
Candles have a magical ability to create a beautiful and intimate ambiance, setting the perfect tone for a romantic wedding celebration. You can use them in wedding decor adorn your wedding venue, fill open spaces, add a cozy touch to an outdoor setting, along with crafting stunning displays for memorable wedding photos
If you don't want to add something real like real candles to your wedding space, then you can always choose to go for artificial flickering candles. You have to keep in mind that there is no such thing as too many candles and they are a big opportunity for creating a romantic wedding theme.
Their gentle glow will not only enhance the overall wedding decor but also evoke a romantic vibe and enchantment, making your special day truly unforgettable for both you and your guests.
5. Hanging Installations
Elevate the impact of your wedding day by incorporating beautiful hanging installations such as crystal chandeliers. This trending approach adds a modern romance allure to your winter wedding theme, leaving a lasting impression on your guests.
For instance, consider a captivating baby's breath cloud suspended above your tables, a lush greenery wreath adorning the dance floor, or the romantic allure of chandeliers gracefully displayed throughout your venue. These stunning installations will infuse your celebration with a sense of enchantment, creating a truly magical and memorable experience for everyone in attendance.
6. Muted Color Tones
Drawing inspiration from a serene snowy winter landscape, consider crafting your wedding color palette using a range of soft and elegant hues. Embrace the calming tones of soft grays, pale blues, whites, ivories, and neutrals to style your special day.
This harmonious color scheme is ideal for brides seeking a gentle and natural aesthetic. The combination of these delicate colors will not only create a soothing atmosphere but also exude a timeless and sophisticated charm, adding a touch of ethereal beauty to your winter wedding celebration.
7. Cute String Lights
String lights are a delightful addition to infuse your winter wedding with a romantic ambiance. These lights have a soft glow that evokes a whimsical and fairytale-inspired vibe that your guests will absolutely adore. The versatility of these lights allows you to incorporate them into your ceremony and reception decor in various enchanting ways.
For instance, drape them over your tables, wind them around trees and structures, or use them to create captivating curtains and canopies, forming mesmerizing focal points throughout your venue. These luminous accents will surely cast a spell of magic over your celebration, making it an unforgettable and dreamlike experience for all in attendance.
8. A Romantic Wedding Cake
Introducing a romantic wedding cake into your celebration has the remarkable ability to infuse an extra layer of enchantment and intimacy into your special day. A beautifully crafted wedding cake, adorned with delicate floral details, soft pastel hues, or even intricate lace patterns, can evoke a sense of timeless romance that resonates with the emotions of the occasion.
As the centerpiece of your wedding reception venue, a romantic wedding cake becomes more than just a sweet treat. A romantic wedding cake doesn't merely grace your dessert table; it weaves a touch of magic through the air, making your wedding an even more unforgettable and deeply romantic affair.
9. Warm & Romantic Wedding Attires
When it comes to a romantic winter wedding day look, luxurious long-sleeved floor length gowns or even a dress crafted from rich fabrics like velvet, satin, or lace not only exude elegance but also keep you cozy in the cool weather.
You can go with elegant bold color palette to add more detail, or you can simply choose most romantic colors such as pink or red to your wedding party. Grooms can opt for stylish wool suits or tuxedos in deeper hues for the ceremony or for the first dance.
10. Warm Reception Venue Activities
Crafting a warm and romantic wedding theme reception involves infusing the event with activities that evoke coziness and connection. Create cozy corners adorned with plush seating, blankets, and flickering candles, inviting guests to unwind and engage in intimate conversations.
To celebrate the season's spirit, set up a DIY s'mores station with a crackling fire pit, encouraging laughter and bonding as guests roast marshmallows under the starlit winter sky. Incorporate interactive elements like a sentimental photo booth adorned with winter-themed props, ensuring that cherished memories are captured against the backdrop of your romantic wedding celebration.
11. Romantic Soft Snowflakes
Snowflakes offer a delightful touch of holiday enchantment, bringing the magic of snow to your romantic wedding day even if the weather doesn't cooperate. Crafting them from paper or fabric is a breeze, and their elegance shines when they dangle from the reception ceiling, grace tables during dinners, or adorn chairs in style.
The good thing is you can add these cute details to escort cards, seating chart, or even on your wedding cake. Elevate the charm by inviting guests to pen personal messages on these individual snowflake creations with handwritten calligraphy.
12. Adding Velvet in the Venue
Velvet, a stunning fabric choice, embodies the warm and refined ambiance of a winter wedding. Enhance its allure by combining it with other seasonal delights like figs, lush greenery, and the soft glow of candlesticks.
If you are having an outdoor wedding ceremony, simply style velvet in some romantic colors with a floral arch to complement your wedding ceremony a royal look.
13. Adding Pinecones
If you're seeking nature-inspired winter wedding concepts, pinecones present a wonderful choice. You can seamlessly integrate them throughout your Wedding reception venue as delicate accents or infuse them as charming embellishments in your tablescapes and table numbers.
For more winter glam you can DIY Pinecones and decorate them with your wedding invitations. Furthermore, couples who are having an outdoor wedding ceremony, then you can decorate pinecones with white rose petals.
14. Metallic Accents
Elevate your decorations with a mesmerizing touch of radiance and brilliance through captivating metallic accents. Winter's embrace is the perfect season to infuse your arrangements with shimmering elements, featuring the resplendent shades of silver, gold, and copper.
Whether you opt for an all-encompassing metallic theme or selectively incorporate them in subtle touches, the choice between minimalistic charm and lavish extravagance is yours to make. Beyond aesthetics, these metallic tones infuse an air of sophistication and modern allure into your matrimonial celebration.
15. Skiing Wedding Photography
Capture the essence of your winter wedding attire by seizing a remarkable shot amidst the snowscape. While skis are optional, they undoubtedly add a touch of exhilaration, especially if your wedding is set against the backdrop of a picturesque ski lodge.
This photo opportunity not only showcases your attire but also encapsulates the adventurous spirit of your special day, encapsulating the beauty of the winter season and the love you share.
16. Winterberry Wedding Hair
Embrace the charm of a flower crown even in the winter months. Infuse seasonal berries into the arrangement to craft a quintessentially boho aesthetic that adds a touch of natural beauty and allure to your ensemble.
17. Space Heaters for the Wedding
Even in a warm climate, don't overlook the potential for temperature drops during winter evenings. Enhance your guests' comfort by strategically placing space heaters throughout the venue, ensuring a cozy and enjoyable atmosphere for everyone.
18. Barn Setting for Real Weddings
Opting for a barn venue perfectly complements the rustic allure of winter. The inherent charm of the barn harmonizes wonderfully with the seasonal ambiance. With minimal embellishments, such as cascading garlands of lush greenery, the space effortlessly evolves into a snug haven from the cold weather, radiating a cozy and inviting atmosphere for your celebration.
19. Cozy Wedding Favors for Your Special Invitees
Embracing vows amidst chilly temperatures? Elevate your celebration by offering a delightful and heartwarming winter wedding favor idea. Treat your guests to deliciously warm and creatively crafted cookies that they can savor during your special day. As they enjoy these cozy treats, they'll bask in the romantic ambience, adding a touch of comfort and joy to your unforgettable moments.
20. Hot Chocolate
Infuse an element of delightful surprise into your wedding by gifting your guests with charming hot chocolate kits placed at each place setting. Imagine their smiles as they discover these thoughtfully prepared tokens of warmth.
Not only do these kits offer a delectable treat, but they also carry with them a beautiful memory of your special day. The next time they cozy up at home to enjoy a cup of cocoa, it will evoke fond recollections of your wedding, encapsulating the magic of the moment in a heartwarming sip.
Bottom Line
In conclusion, winter weddings offer a magical canvas for creating enchanting and romantic celebrations. From embracing a snowy-inspired color palette of soft grays, pale blues, and neutrals to incorporating elegant hanging installations and twinkling string lights, the possibilities are endless. Couples can choose from a myriad of options like red-themed decor for a passionate touch or white-themed arrangements for timeless elegance.