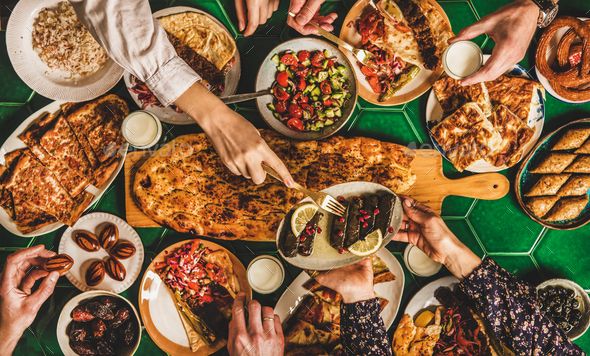 Ramadan is the holiest month in the Islamic calendar and is observed by Muslims around the world. During this month, Muslims fast from sunrise to sunset and break their fast with a meal called Aftaar. If you're planning to organize an Aftaar dinner for your loved ones in Ramadan 2023 in the UAE, visit Monasabat for the best event management services and make your Aftaar dinners memorable. To help you kick start your after-dinner planning, here are some tips to help you make it a memorable event.
Tips to Organize an Aftaar Dinner
These tips will help you organize an Aftaar dinner for big gatherings and you will also get to know how you can wow your guests with such simple planning.
1. Plan Ahead
The first step to organizing an Aftaar dinner is to plan ahead. Decide on a date and time that works for everyone and make sure to send out invitations well in advance. Take into account the sunset time and plan to start the meal a few minutes after the call for Maghrib prayer.
2. Choose the Venue
When choosing the venue for your Aftaar dinner, consider the number of guests you are inviting and the type of atmosphere you want to create. If you have a large number of guests, you may want to consider hosting the dinner at a banquet hall or a restaurant. If you're hosting a smaller gathering, you can have it at your home.
But if you are someone who is looking to host a lot of people, you can always trust Monasabat's venues to have comfort and top-notch management under one roof.
3. Decorate the Venue
Decorating the venue can help create a warm and welcoming atmosphere for your guests. Consider using traditional decorations like lanterns, candles, and Islamic calligraphy to create a festive mood. You can also use colorful tablecloths and cushions to add a pop of color to the setting.
4. Prepare the Menu
The menu is one of the most important parts of an Aftaar dinner. It is a time for indulgence and feasting after a long day of fasting. You can either prepare the food yourself or order it from Monasabat's food services. Traditional Aftaar dishes include dates, samosas, kebabs, biryani, and sweets like baklava and kunafa. Make sure to cater to your guests' dietary needs and preferences.

5. Set the Table
Setting the table is another important aspect of hosting an Aftaar dinner. Make sure to have enough plates, cutlery, and glasses for your guests. You can also use traditional Arabic dishes like brass trays, bowls, and cups to serve the food. Set up a separate area for dates and drinks like juice and water.
6. Make it Interactive
An Aftaar dinner can be more than just a meal. You can make it interactive by including activities like Islamic quizzes, storytelling, or reading Quranic verses. You can also include an Islamic scholar to give a brief talk about the significance of Ramadan and the importance of fasting.
7. Make it Charitable
Ramadan is also a time for giving back to the community. You can make your Aftaar dinner charitable by inviting guests to bring a donation to a local charity or organization. You can also use the event to raise awareness about a particular cause.
8. Manage Time
Managing time is crucial when it comes to hosting an Aftaar dinner. Make sure to have a clear schedule of events and stick to it. Allocate enough time for guests to break their fast, pray, and eat the main course. Avoid prolonging the dinner as it may cause discomfort to guests who need to continue their daily routine during Ramadan.
9. End with a Sweet Note
Finally, end the Aftaar dinner on a sweet note by serving dessert or traditional Arabic coffee. You can also give small gifts like dates or sweets to your guests as a token of appreciation for attending the event.
End Note
Hosting an Aftaar dinner is a wonderful way to bring friends and family together during the holy month of Ramadan. By following these tips, you can organize a memorable event that your loved ones will cherish for years to come.
In case you are wondering how you can organize a fantastic after-event, make sure to check out Monasabat for the best event management services. Moreover, you can read the Top 5 Middle Eastern Dishes to Request from Your Catering Service in Ramadan 2023 to have the best experience of Middle Eastern cuisine.