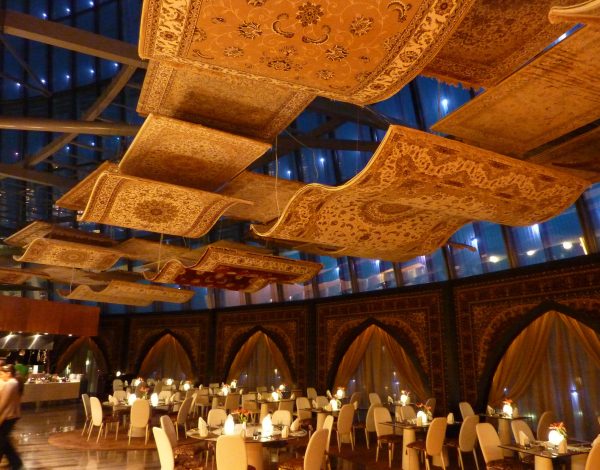 What do you imagine when you think of Arabian Nights? Perhaps you picture gold accents, luxurious fabrics, enchanting carpets, and genies in a bottle. This theme offers many possibilities for a memorable wedding where you and your guests can enjoy global flavors in a glamorous setting.
Don't worry, you don't need to book a flight to the Middle East, just choose an Arabian Nights-themed wedding and live your Arabian Nights fantasy! In this article, we will be helping you choose the right Arabian Nights-Themed Ideas for your big day.
What is an Arabian Nights Wedding Theme?
This theme is all about Middle Eastern ambiance. It will enable you and your guests to fully engage in the vibrant colors and flavors of Middle Eastern culture, encouraging maximum indulgence. If you are worried about what to include from this theme, we have given several ideas below for your ease.
Ideas for Creating a Magical and Enchanting Atmosphere
We have given some of the basic tips that you can do to have an Arabian Nights wedding theme in UAE. Make sure to follow them step by step or look for alternatives that are suitable according to your liking.
1. Selecting an Arabian Nights Themed Venue
Rent a luxurious event tent to secure your spot in your preferred park, field, or any available open area. These tents are uniquely built to provide a blend of indoor and outdoor atmospheres for you and your guests to relish. Select from a range of high-end tents with custom drapes or adorn basic gazebos with your personal event management services suppliers from Monasabat!
2. Roof Top for Magic Carpet Ride
You can make your celebrations more special by enjoying stunning views from a rooftop terrace that will make you feel like you're on a magic carpet ride. Decorate your space with ornamental rugs, floor pillows, and other relaxing elements while enjoying the golden hour. As soon as dusk starts in its full glory, the sparkling stars will add a charming touch to your wedding, making it a night to remember for your guests.
3. Arabian Backyard for a Small Wedding
Consider having an Arabian Nights-themed wedding in your backyard for an intimate setting with your loved ones. You can create a Middle Eastern ambiance by adding draping and decorations. Enjoy the wedding while having the chance to dress up and share food, shisha, and have fun with your loved ones in the comfort of your own home.
4. Arabian Nights-Themed Entertainment
If you're celebrating your wedding day in the Arabian Nights theme, you can hire Monasabat's face paint artist to create temporary designs using a dye that stains the skin with the design. Many artists specialize in henna tattoos for celebrations, so you and your guests can get some temporary body art to remember the wonderful night.
5. Arabian Nights Themed Wedding Food
Hummus has become a popular dip in recent years, making it a great addition to your Arabian Nights-themed wedding. Consider requesting your catering service to include hummus in the wedding menu to offer your guests a taste of the Middle Eastern dip.
If you have guests who eat meat coming to your wedding, you could consider serving shawarma. It's a dish made of thinly-sliced meat cooked on a vertical rotisserie with a variety of spices that enhance its flavor. You can choose traditional lamb or mutton shawarma or other meats like chicken, turkey, or beef.
Pomegranates are a frequently used fruit in Middle Eastern cuisine and are currently in season. If you want to add an authentic touch to your Arabian Nights wedding, you can buy some pomegranate molasses. You can mix this tangy syrup with soda water, lemon juice, and your preferred juice to make a tasty long drink.
6. Arabian Nights Inspired Outfits
Do you remember Aladdin? As a groom, you can choose a wedding outfit with Aladdin-inspired details. For the bride, take inspiration from Princess Jasmine and consider wearing a fairy ball gown, bold jewelry, and black kohl eye makeup for your Arabian night-themed wedding. You can always check out Monasabat's event suppliers to help you choose the perfect designer clothes for your big day.
7. Heavy Jewel Tones in Decorations
For an event like this, it is recommended to go for opulent and indulgent decor. To achieve this, you can focus on using jewel tones to add a luxurious feel. The décor should consist of different textures, such as velvet and silk, for draping and throw pillows. The key element is a rich color scheme with a touch of gold. A variety of colors in jewel tones would be perfect to create the Arabian Nights vibe.
8. Musky Arabian Scents
To enhance your immersive event, try stimulating another one of your senses. Since you've already created a vibrant atmosphere with decorations, consider using safe incense or oil burners to diffuse rich oud fragrance from the Middle East. By taking a deep breath and closing your eyes, you and your guests can be completely transported by the aroma.
Middle Eastern Traditions To Add to Your Theme Wedding
1. Tolbe
"Tolbe" is a private event reserved for the closest relatives of the bride and groom. The groom formally requests the bride's hand in marriage from her parents during this tradition, which occurs after both families have agreed to the proposal. After giving their blessings, everyone present recites "Surah Fatiha" and celebrates with tea and sweets.
2. Radwa
"Radwa" is a pre-wedding event that usually lasts one or two days. During this event, male relatives from both the bride's and groom's families go to the bride's home to help with decorations and ensure that the bride's parents are enjoying themselves.
The groom's relatives also work to resolve any issues that may arise before the wedding. Finally, the eldest man from the groom's family offers congratulations and blessings to everyone.
3. Barmet Al-aroos
Barmet Al-aroos is a farewell tradition for the newlywed couple where they leave in a decorated vehicle. Friends and family follow them to their home while playing loud music as a way to announce the wedding celebration.
Bottom Line
If you want to celebrate the beautiful wedding traditions of Middle Eastern countries in all their glory, finding the perfect venue can be a challenge. However, if you're planning a wedding in the UAE and want it to be perfectly themed, look no further than Monasabat's amazing venues and top-notch event management services.